New York Digital Signage Week
New York Digital Signage Week takes place Monday October 29 to Friday November 2, 2018.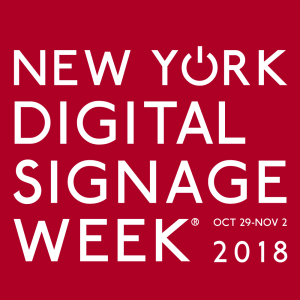 Once again the week is the usual heady mix of FREE and PAID for events – conferences, showcases, cocktail events, open houses, breakfast debates, tours and other ad-hoc activities. Last year 34 events (up from 25 the year before) took place during the week.
The week will once again be supported by all the major industry associations; thanks to the Advertising Research Foundation, the Digital Signage Federation, the DPAA, the OAAA and the SEGD as well as all of the big screen and LED manufacturers; BARCO, Daktronics, LG, SNA Displays and Samsung.
The suggested hashtag for the week is #NYDSW.
To help people put on their own events, we've created 'Your Guide To Creating a Pop-Up Event During New York Digital Signage Week', email Russcurry@gmail.com if you want a copy, which explains how easy and beneficial doing something during the week can be.
The official hotel for New York Digital Signage Week is New York's iconic Roosevelt Hotel, known as the 'Grande Dame of Madison Avenue'. A limited number of sleeping rooms have been reserved at a preferred rate (US$299) for delegates attending any event during New York Digital Signage Week.
Information about last year's New York Digital Signage Week, which also took place the last week of October can be found here.