MMD, the exclusive licensee for Philips Commercial Signage and Philips Monitors Worldwide, announced today a new addition to its digital menu board series, the 47" BDL4771V.
The Philips 47" BDL4771V is part of an expanded line of commercial-grade displays built for menu board applications in Quick Service Restaurants (QSR), Theaters, Amusement Parks and Stadium Arenas.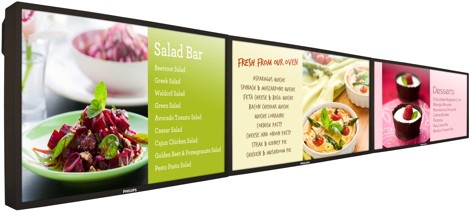 The new Philips 47" BDL4771V features technologies to enhance the viewing experience of digital menu boards in public areas. The Philips display includes an In Plane Switching (IPS) LCD panel for vivid and rich picture quality at 1.07 billion display colors. The large color spectrum creates precise color saturation and contrast for a wider viewing angle in both portrait and landscape orientations. The IPS display technology also produces image consistency from screen to screen in multi-screen implementations. This feature is ideal for ensuring viewers can clearly read signage content from all angles among an array of displays in a menu board configuration.
To meet a variety of digital menu board configurations, the Philips 47" BDL4771V features DVI Loopthrough technology, which allows the ability to daisy-chain multiple Philips displays through one digital source. By utilizing DVI Loopthrough technology, users can deploy systems in higher volumes while lowering costs for implementation by broadcasting a single video signal through multiple Philips displays. The DVI Loopthrough technology enables an array of Philips displays to connect in video wall and menu board configuration via DVI connection.