Adrian J Cotterill, Editor-in-Chief
It's looking very much like a German only affair for the 'Munich Digital Signage Conference 2012' so any non-German speakers and like last year, anyone outside greater Germany can probably forget about attending.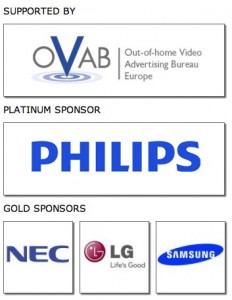 Whilst there is no agenda available yet the first few speakers have been announced and they pretty much speak for themselves in terms of what sort of event it's going to be…
Christian Rößler
Managing Director
Serviceplan Digitalsignage +
Damian Rodgett
Managing Director
pilot Screentime GmbH
Franz-Josef Medam
Managing Director
Cittadino
Axel Schindler
Senior Marketing Manager Advertising
Airport Munich
Engelbert vom Kolke
Managing Director
VISAPIX GmbH
Rich Gottwald
Executive Vice President
International Sign Association
Four screen manufacturers are listed as sponsors; Philips as 'platinum' and NEC, LG and Samsung as 'gold' and another display manufacturer DynaScan as 'silver' whilst hardware provider CONCEPT International GmbH is listed as 'bronze'.
Earlier this year the OVAB Europe logo was incorrectly plastered all over the invidis GmbH organised #DiSCO12 event (basically giving credence to an event that was not officially endorsed by the European digital out of home association in anyway) and it looks to us once again that the organisers are being sneaky again in using the association for their own ends (invidis GmbH are after all consultants / event organisers / OVAB Europe board members).