The autumn and winter do not only bring higher utility bills and cold weather but for many are also synonymous with flooding. More than two thirds of European cities have to deal with flood risk management issues on a regular basis.
Early Warning Systems (EWS) can play a crucial role in mitigating flood risk by detecting conditions and predicting the onset of a catastrophe before the event occurs, and by providing real time information during an event. The UrbanFlood wants to help and at a recent meeting in the UK they use a large touch screen to demo the key areas of the project and how it works.
UrbanFlood is an European project investigating the use of sensors within flood embankments to support an online early warning system, real time emergency management and routine asset management. The project proposes routine asset management including the regular inspection of dikes.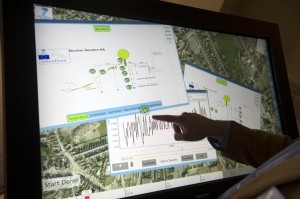 During an Urbanflood workshop in Boston, Lincolnshire, UK, interactive technologies specialist Touchez provided an interactive kiosk . The Philips 42" BDT4225EK/32, multi touch information screen was displayed at a 45 degrees angle.
Since the information about potential flooding and the visualization of affected areas is all online, a multi touch display is a good way to show how it works and how it could be installed in key areas to provide experts with instant agile access to the information in one place and without having to switch a computer on.