Adrian J Cotterill, Editor-in-Chief
The Kite Factory has appointed award winning, independent Out of Home agency Talon as its OOH partner following a competitive review.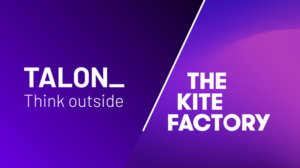 Announcing the appointment, Anthony Abou-Zeid, Head of Client Services, The Kite Factory, said "Over the last three years, we have focused on evolving our heart, art and science proposition which is driven by creativity, innovation and effectiveness. Throughout the pitch process, it was clear that Talon's values were totally aligned to ours. They challenged our thinking, demonstrated true innovation and thought leadership and importantly, they clearly drive a culture of effectiveness throughout the entire business. Their team showed a lot of passion and enthusiasm to work on our business and for us, that was something that really stood out."
We are told that the partnership between the two thriving independent agencies means supercharging The Kite Factory's media planning and buying with Talon's industry-leading data-driven technology solutions at global, national and regional levels, to deliver innovation with effectiveness at the heart.
Luke Willbourn, Chief Client Officer, Talon, said "The Kite Factory is known for its unique approach in delivering for clients and Talon is delighted to have been chosen as their OOH partner. They are an impressive team, and we look forward to working together and harnessing Talon's data-fuelled technology with capabilities for audience targeting, creativity and measurement to deliver brilliant client solutions."
Recently celebrating its tenth anniversary, this announcement follows another incredibly successful period for Talon: opening new offices in Asia-Pacific and the Middle East, securing new investment from Equistone Partners Europe and strengthening its global presence with the recent acquisitions of Novus Media Canada Corp and Evolve.
The Kite Factory is an independent media agency giving brands the best in heart, art and science to craft creative media ideas that deliver, with the means to measure them effectively. The 100-strong agency has grown over 43% (income) in the last three years, and works with a variety of commercial and not-for-profit organisations, including WhiteClaw, David Lloyd Leisure, WaterAid, Leigh Day, Crisis, The LTA, Triodos Bank, Lovehoney and Little Freddie.