July 22nd, 2014
Gail Chiasson, North American Editor
PATTISON Outdoor Advertising, Toronto-base Out-of-Home advertising company offering a multiplatform inventory of digital products, has completed the roll-out of its smartAD advertising engine to its exterior products, enhancing what has already been available for its interior digital networks.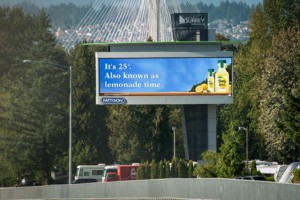 Advertisers on PATTISON's exterior digital platform now have the ability to quickly and efficiently update advertising campaigns across PATTISON's Canada-wide multiplatform digital inventory.
"With just one click, advertisers or their agencies can instantly update their messages, creating a compelling value proposition to clients and a clear advantage against competitors," says Joe Donaldson, Pattison Outdoor's vice-president marketing.

"This is industry-leading technology," claims Donaldson. "Noone else in the world has this."
Already available on nearly 2,500 interior screens across Canada, PATTISON Outdoor has now completed the rollout of its smartAD platform to all of its 207 exterior digital posters and spectaculars coast-to-coast. The smartAD engine enables advertisers to easily and quickly update their advertising messages on PATTISON's platform of digital products.

"PATTISON is committed to providing advertisers the innovative tools necessary to better communicate with consumers, and smartAD is our proprietary technology that will enhance our Digital Out-of-Home portfolio of products," says Donaldson. "Our smartAD-powered engine will enable national brands and retailers of all sizes to create targeted, dynamic advertising messages that can be customized by the advertisers themselves. Creative can flow out to our interior and exterior digital products, including digital exterior products like Horizontal Posters and Superboards, and interior products like the transit, office and residential networks, and any of our other digital properties."
The smartAD engine delivers value across the digital advertising ecosystem, enabling advertisers to easily create dynamic messages along a shopper's path to purchase. Advertisers using smartAD are able to:
Create relevant and dynamic advertisement based on external data sources like weather, date or time;
Instantly update artwork, based on product supply and demand;
Include directions and maps that guide the user to the closest location with the product available;
Create a sense of urgency for events and/or time-sensitive promotions;
Easily integrate social media feed from sites like Facebook, Twitter or Instagram.
Many national and local businesses are already using smartAD as part of their campaigns, and adding exterior products to the mix will enhance their ability to successfully communicate with consumers and expand their brand's voice.