October 19th, 2020
Adrian J Cotterill, Editor-in-Chief
NYCNext isn't the first to denounce false narratives speculating that New York would not survive the pandemic, but it might be the loudest. Their inaugural campaign, created by Dumbo-based creative agency Our Man In Havana, sets out to remind New Yorkers that they hold the power to revitalize their city, just by living in it.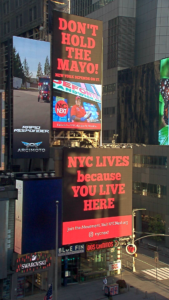 In partnership with Clear Channel Outdoor Holdings, Inc. (NYSE: CCO), NYCNext will leverage marquee digital displays in Times Square from October 19 to November 15, 200 but rather than use Clear Channel Outdoor's displays to advertise the organisation itself, the campaign will launch as a way to spotlight an array of activities, places and people that contribute to the fabric of NYC.
Bold and unapologetic, much like New Yorkers themselves, the campaign's message calls upon residents to support, enjoy and even drive all the unique stuff that makes NYC special. By telling New Yorkers to eat Bacon Egg & Cheese sandwiches from a local bodega, or to take scandalous pictures of sculptures at a museum, these ads remind inhabitants that they can play a role in ensuring their city's survival, simply by participating in its culture.
And what the campaign touts, NYCNext practices — the organization has harnessed the power of New Yorkers' love for their city in order to make all of this happen. All parties are donating their time, efforts and resources to the initiative as an investment in the city's future and wellbeing.