July 29th, 2014
Siemens, the leading global engineering and technology services company, has implemented digital signage throughout a number of UK offices to improve the delivery of their internal communications.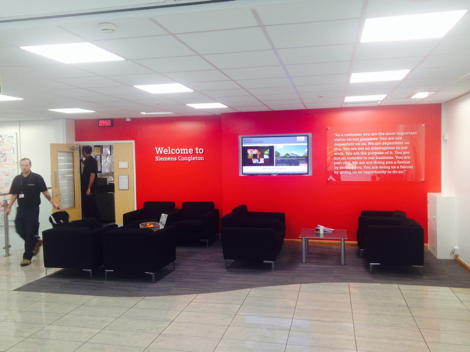 Siemens tasked UK Digital Signage provider Eclipse Digital Media to provide a suitable solution that met their requirements. Siemens required an internal communications tool that enabled its marketing and corporate communication teams to efficiently and effectively deliver messages to the right areas of their business at the right time.
Eclipse Digital installed a network of ONELAN digital signage hardware to provide Siemens with the tools needed to communicate efficiently.
As the project evolved Siemens Industry, Siemens Global Shared Services and Siemens UK Corporate Head Office departments all required their own internal communication solution – the network provides the flexibility needed to allow different employees to access and update content locally for their department. It also provides the Siemens corporate marketing and communication teams the ability to distribute content to all departments across multiple sites as well as being able to specifically target messages to certain departments.
"Eclipse Digital provided excellent customer service; they worked with us from the start to fully understand our needs and were committed to making our Digital Signage project a success"
 Andrew Cowey, Strategy Manager, Siemens Industry
The Digital Signage network has so far been installed in several UK office locations including Manchester, Leeds, Handforth, Congleton, Worcester and Poole with the Frimley Head Office next on the installation list.