Clear Channel's super premium digital brand, Storm, has unveiled their first site in Leeds, Storm The Mile. Storm The Mile, which is Storm's fourth site outside London following the launch of Storm Mancunian Junction in Manchester last month, becomes the latest landscape screen to join Storm's expanding nationwide portfolio.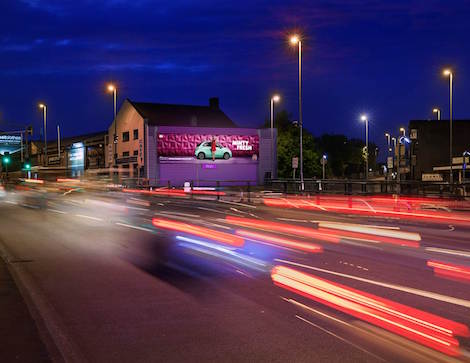 Storm The Mile is located on the A64, a busy commuter route targeting over 1 million road users per month, travelling outbound and coming off the M1 and M62. The site faces 3 lanes of traffic and has exceptional sight lines, meaning full and uninterrupted visibility for vehicular audiences.
The screen itself, which is 26% larger than a 96-sheet but with the same proportions, is set within a unique lighting wall, complete with a totally bespoke integrated control system. This allows advertisers to customise Storm The Mile with stunning moving lighting effects, marrying the architectural design and latest technologies closely associated with Storm sites. Storm The Mile also features Storm's signature digital name plates, giving brands the opportunity to take full ownership.
Aimee McKay, Managing Director at Storm, told us "Leeds is one of the UK's key cities, and we're delighted to be introducing the first Storm site in West Yorkshire, Storm The Mile. This site features totally unique moving lighting capabilities and I'm extremely excited to work with brands to create some of the most creative and impactful Out of Home advertising anywhere in the UK."
A single sided landscape screen, Storm The Mile further strengthens Storm's growing nationwide portfolio and cements their position in the North. Leeds is a top 4 UK retail destination with an annual retail spend of over £2 billion and a catchment of over 5.5 million shoppers.