Editorial Team
You will know when you've been DailyDOOH'ed – a mixture of conviction, showmanship, mischief, humour and above all professionalism is brought to you by a back room support team of technologists, a global network of regular contributors and some great journalists…
Gail Chiasson, North American Editor
Gail has been a journalist and editor in Canada for more than 30 years, specializing in the national advertising, marketing, media and communications industry with a special affection for the OOH sector.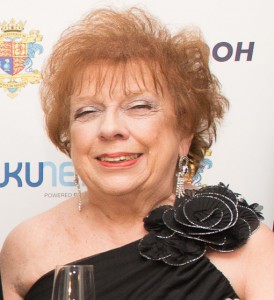 After her early career working in the advertising, promotion and public relations sectors and as a newspaper reporter, she was Quebec editor of Marketing magazine where she also regularly headed several of the magazine's national reports including those on Out-of-Home.
She then went on to edit a daily Web site at PubZone.com, as well as the twice-yearly magazine, Canadian Technology & Business.
Gail was also a staff correspondent for Advertising Age, advanced-television.com, Media International, AdAge's Daily World Wire, and has written for such publications as AdAge's China edition, enRoute magazine and many others. She has also acted as a PR consultant and produced press releases on behalf of various PR and advertising agencies. She has also been a judge at various advertising competitions.
Gail joined DailyDOOH shortly after its founding as our correspondent and was quickly named North American Editor. She speaks English, and, she says, "bad French and minimal German". Based in Montreal, she is a Journalism graduate of the University of King's College.
Gail is co-author of DOOH INSIGHTS: 2014 | The Best of 2014 (published October 2014).
Adrian Cotterill, Co-Founder and Editor-in-chief
Over the past 30 years Adrian has worked for IBM, Intel, Bertelsmann and a number of investors and business angels in positions such as Chief Technology Officer, Head of Internet Technology, Business Development Director, Head of Strategy and Interactive Marketing Manager.
His work over the last eight years has involved industry analysis, market research, commercial and technical due diligence, software and hardware review, product design, branding and market entry strategy.
As well as chairing 'The DailyDOOH Investor Conference' in New York each October, Adrian is a much in demand speaker at events around the world and a familiar face on the judging / award circuit.
He is also chairman of the OpenSplash Steering Group, a member of MENSA, the High IQ Society and a member of the National Union of Journalists.
He is the author of several books including DOOH INSIGHTS: 2008 To 2012 | Five Years Of Executive Thought (published October 2012), DOOH INSIGHTS: 2013 | The Best of 2013 (published October 2013) and co-author of 'How MicroTiles Made An Impact At The London Stock Exchange', co-author of 'The Technical Guide to Windows' and co-author of DOOH INSIGHTS: 2014 | The Best of 2014 (published October 2014).