December 17th, 2014
Gail Chiasson, North American Editor
iGotcha Media, Montreal-based developers of eye-catching, entertaining and informative digital signage solutions, video walls, kiosks and content, has announced that four 47" wayfinding kiosks are now fully-operational at the World Trade Centre Montréal, an Ivanhoé Cambridge property.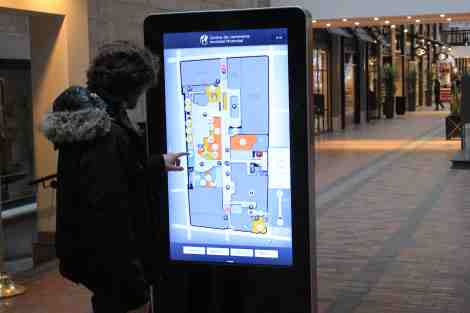 iGotcha Media's wayfinding kiosks enable customers to navigate large commercial and institutional spaces (shopping malls, airports, hospitals, universities, etc.) and find the services they are looking for with ease. Features include: floor plan maps, a semantic search engine (name, description and keywords), pictures, a cross-building pathfinder, 'breadcrumbs' – clear paths to specific destinations (including optimized routes for disabled customers), e-mail coupon promotions and a calendar of events.
"For merchants, the benefits of wayfinding kiosks include: an interactive platform for video and text customer communications (promotional and informative), opt-in data-catching through newsletter registration (name and e-mail) and the simplicity of cloud-based content management," says Greg Adelstein, president, iGotcha Media.
The WTCM is a unique complex spanning an entire city block that consists of several restored historic buildings under a glass roof. Home to dozens of boutiques, restaurants, services and more than 50 offices, the WTCM's wayfinding kiosks help visitors find their way with ease, inform them of promotional opportunities and simplify access to all on-site services.
"Our new wayfinding kiosks welcome our visitors," says Jacques Rajotte, WCTM property manager. "Given the size our facility and its unique layout, providing directions can be challenging. Our kiosks are strategically positioned in high traffic areas and enhance the customer experience by providing a wealth of information with an intuitive interface. We have already received great feedback from our visitors, merchants and tenants."
"The benefits of wayfinding kiosks for visitors are quite apparent," says Adelstein. "For merchants, our kiosks provide an unprecedented platform to communicate directly with prospective customers by offering promotions and building longer term relationships via subsequent electronic communications. We believe that this showcase implementation will drive awareness and interest, and help us accelerate a roll-out of additional implementations that we are currently working on."
Founded in 2005, iGotcha Media specializes in delivering turn-key digital signage solutions, including: hardware, software, installation, content development and network management. Its clients include: Cambridge Group of Clubs, Le Château, National Bank of Canada, Reebok, Rockport and Via Rail Canada.