Adrian J Cotterill, Editor-in-Chief
This week Student Freedom Initiative announced a long-term strategic partnership with Clear Channel Outdoor to engage HBCU students through Clear Channel's internship program where they can gain real-world experience in the marketing and advertising industry and build career readiness skills.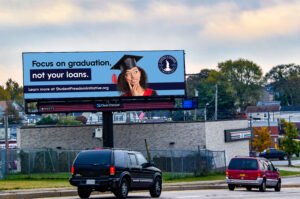 This partnership will be further supported by a nationwide digital out-of-home campaign that raises awareness of Student Freedom Initiative's resources and solutions to help students escape the burden of student loan debt.
Forbes highlighted the findings of an internal memo of top five advertising agency Interpublic Group. This memo reported only 2.6% of its executives were Black while 86% were White. While non-Hispanic white people comprise 59% of the US population, white actors account for 72.5% (increase from 65.6% in 2021) of people appearing in TV and digital video ads in 2022, according to a study by Extreme Reach, a global marketing and logistics company.
"As with all other public-private partnerships, from the onset, the goal with Clear Channel Outdoor was to be very intentional," said Robert F. Smith; Founder, Student Freedom Initiative. "We sought a long-term industry partner, who was mission aligned, committed to a long term partnership, and sought to address the disparities in the advertising space while simultaneously seeking to tap into the $300 billion in unmet demand by Black consumers (McKinsey and Company)."
According to a report from McKinsey and Company, Black spending power reached $1.6 trillion in 2021, and Black consumers are younger and more brand-aware than other groups. At the same time 60% of consumers from diverse communities felt "invisible or underrepresented" in ads, up from 58% in 2021, according to a survey by the Alliance for Inclusive and Multicultural Marketing. The poll also found that companies that ranked highest on its diversity index saw the highest sales boost from ads. This McKinsey report also highlighted that only 6.3% of marketing research analysts and 5.7% of marketing managers in the US are Black.