July 6th, 2015
The University of Greenwich has three campuses in South-East London and North Kent. These are located at Greenwich in the grounds of the Old Royal Naval College, at Avery Hill and Medway.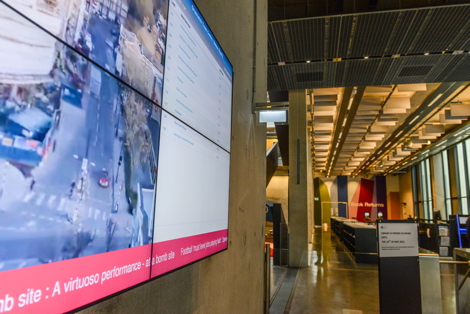 The University wanted a way of presenting visual information to staff and visitors across all three campuses, and to give staff and students a better idea of what goes on at other campuses – to improve the feeling of community.
Historically, communications for staff and students have taken the form of traditional printed posters and leaflets. The Service Development & Communications team realised that digital signage would fulfil the University's requirements for better communications, and having selected ONELAN, are testing the system and gradually rolling it out across the University.
The University has the ONELAN Content Management System (CMS) and a ONELAN 4K player driving a 3 x 2 video wall in the main reception at Greenwich. Different zones display bus and train travel information, students' work and event-specific information. An RSS feed at the bottom shows BBC news.
There are also two other screens within the building showing department-specific information, and that will be able to show data extracted from the University's website in the future.