February 20th, 2020
Adrian J Cotterill, Editor-in-Chief
We note that Brookfield Place New York has extended its engagement with Pearl Media as their exclusive media and technology partner. It's a role we believe they've played since 2017. As part of the extension, they'll continue to maintain and operate the Brookfield Place New York ad supported place-based digital signage network and other media opportunities therein.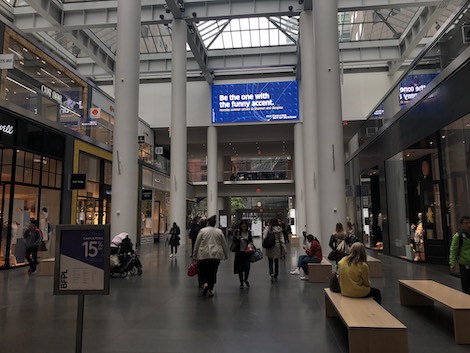 Mark Kostic, V.P., Asset Management, Brookfield Properties said "Brookfield is excited to be renewing its digital advertising partnership with Pearl Media at Brookfield Place. Our holistic approach to marketing is able to seamlessly connect office workers, residents, tourists and retailers alike within a best-in-class mixed-use setting. The digital network within Hudson Eats food hall alone sees tens of thousands of people per day while providing maximum flexibility for the one hundred plus events produced by Arts Brookfield each year."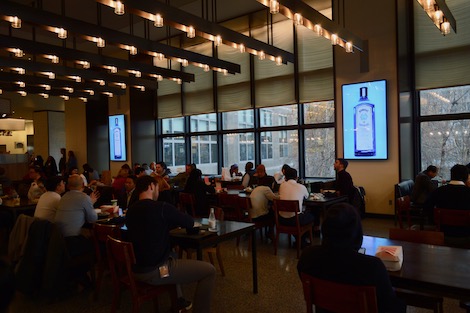 Brookfield Place New York offers a curated mix of fine dining, world class shopping, cultural arts and services. The overall complex is huge, some 14-acres, five buildings, with modern office space occupied by some of the world's most innovative top Fortune 100 companies. It's a happening spot with 35,000 employees, tons of tourists and a diverse cross section of native New Yorkers – ultimately resulting in a weekly footfall of approximately 580,000.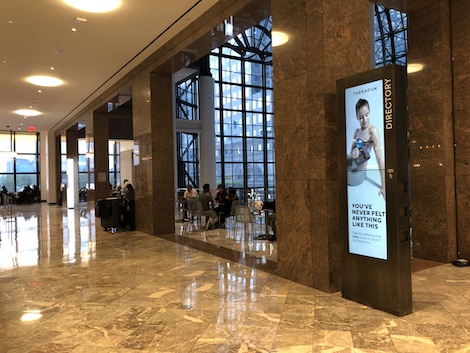 Pearl Media's Chief Revenue Officer Anthony Petrillo says "Brookfield Place New York is located at the intersection of commerce and community and its a lifestyle center for a growing residential population of young families and millennials in Lower Manhattan".
The demographic at Brookfield Place is highly coveted, professionals from top banking, financial, insurance and media firms as well as national and international tourists who come to enjoy the food, the shops and the cultural activities that it has to offer. The venue generates 24,595,507 total weekly impressions according to Geopath data, making Brookfield Place New York one of the most attractive media buys in New York City.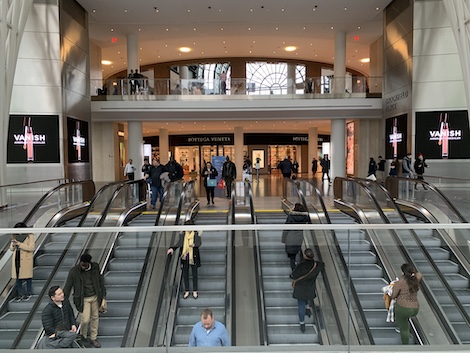 Brands have taken notice. In 2019 Amazon Go, Andie Swimwear, Invesco, Apple News, Blackrock I-Shares, Johnnie Walker, AMEX, Luftansa, Bumble, Bombay Saphire, Polestar and others engaged with this desirable audience through an innovative media platform created by Pearl Media which includes a 22-screen digital signage network, event sponsorships and experiential activation zones.
The digital signage network is a dynamic canvas and consists of: four large format 2mm fine pitch LED Pavilion screens that greet commuters coming from PATH, the NYC Subway or nearby buildings; two large format 6mm fine pitch LED screens (14×30) which anchor the Courtyard retail space; two large format Retail displays, and eight Monolith 55" interactive kiosks which provide a mix of ads, building information and wayfinding.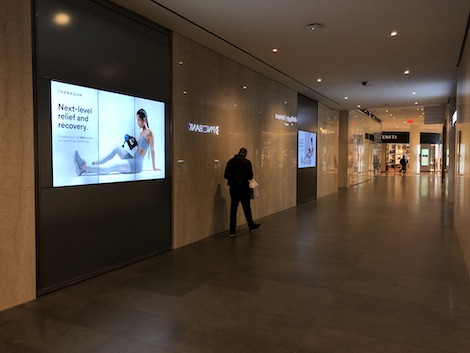 In addition, six 55" LCD screens (98″ landscape, 75″ portrait) are located inside Hudson Eats and feature The Feed, a mix of advertising and infotainment which keeps patrons visiting one of the 14 chef-driven eateries inside the 30,000 square foot space entertained with news, sports, weather and other information.
These screens are also used by Brookfield for event programming in that space.