Hopefully set to further transform the Digital Outdoor landscape in Manchester, JCDecaux has launched The Salford Arch – an iconic, digital advertising superstructure that stretches across six lanes of traffic at one of Manchester's busiest arterial junctions – where the M602 becomes Regent Road.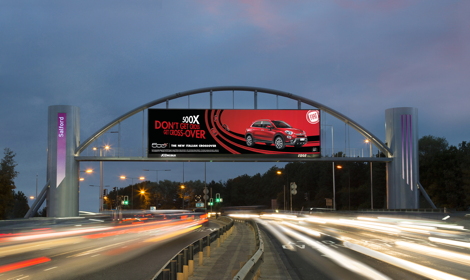 This is actually one of JCDecaux's largest roadside digital screens, with on average 1.2 million impacts every week (DFT) and this double-sided Daktronics LED billboard will be launched by FIAT, Sky, Samsung, JD Sports and Orangina.
The Salford Arch will complement JCDecaux's strong Digital Outdoor presence in Manchester, alongside the digitised The Trafford Arch and The Trafford Tower. The Salford Arch will also become part of JCDecaux's newly formed The Gateways – a nationwide network of premium Out-of-Home locations along key arterial routes that welcome audiences into major UK cities, such as: London, Manchester, Edinburgh, Sheffield, Leeds and Bristol.
Spencer Berwin, Managing Director – Sales at JCDecaux, told us "This spectacular location is like no other, with its incredible size and impact it offers brands an exciting new digital canvas in one of the UK's largest cities. We are delighted that we have such high-profile brands capitalising on this opportunity to reach the influential and affluent audiences that travel on this key road in and out of Manchester city.
The Salford Arch is a fantastic addition to our newly formed The Gateways – a network of premium 'welcome' sites strategically positioned along main city routes that reiterate JCDecaux's strong DOOH offering across the UK."
The FIAT campaign was planned and booked by Maxus and Kinetic.