Gail Chiasson, North American Editor
Clear Channel Outdoor Holdings Inc., Advertising Week, and The Ipsos Girls' Lounge have launched an outdoor advertising campaign amplifying the dialogue at Advertising Week-New York (Sept. 29 – Oct. 3, 2014) to the masses in Times Square and across the country in a targeted digital billboard program that will reach advertising executives in Atlanta, Boston, Chicago, Dallas and San Francisco.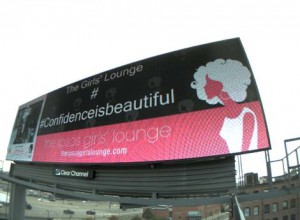 This marks the first time happenings at the annual Advertising Week have been featured in outdoor media in markets outside of New York.
CCO has installed digital kiosks inside and out at the Times Center in New York, which is the hub of Advertising Week activity. The kiosks will feature the day's agenda, along with photos and the official #AWXI twitter feed for the show.
Additionally, in partnership with The Ipsos Girls' Lounge, CCO is also featuring tweets hashtag'ed with #ConfidenceisBeautiful. Female executives attending Advertising Week are encouraged to take a photo at the Girls' Lounge and to tweet their thoughts about confidence being the core of true beauty. They will pick from fifteen Confidence is Beautiful signatures and custom emoticons to accompany their 'selfie' which they can share on social media, in Times Square and across the country.
Tweets and photos tagged with #AWXI and/or #ConfidenceIsBeautiful will have the opportunity to be displayed on one of Clear Channel's spectacular digital billboards in the heart of Times Square.
Spectacolor, a brand division of Clear Channel Outdoor, is the leading innovator of outdoor advertising in Times Square and is enabling the amplification of #AWXI events on its display located at 1567 Broadway, adjacent to the TKTS booth & Duffy Square.
Additionally, Clear Channel Outdoor has developed a special digital network targeted to decision makers at advertising agencies in the top markets of Atlanta, Boston, Chicago, Dallas and San Francisco.
"Clear Channel Outdoor is proud to again sponsor Advertising Week in New York, and the unique campaign we have developed shows the power of outdoor advertising to spark dialogue and create memorable brand experiences," says Rocky Sisson, chief revenue officer of CCO. "The very essence of social media is to offer people the opportunity to be heard and seen. Many of our clients have delighted their customers and fans by taking their social media interactions to big screens in the real world, and we are excited to help Advertising Week and The Ipsos Girls' Lounge extend their conversations to Times Square and in key markets nationwide."

"The Ipsos Girls' Lounge is taking our confidence message on the road, heading on a national tour with our Confidence Is Beautiful bus and Advertising Week is an important stop," says Shelley Zalis, CEO, Ipsos OTX and founder of The Ipsos Girls' Lounge. "The Ipsos Girls' Lounge is broadening our message to explore what 'the good life at work' looks like for women in our industry and is encouraging a sense of confidence to create harmony and happiness at work, at home and in every role women play in between. The amplification of this message in Times Square and across the nation with Clear Channel Outdoor's media will be an incredible expansion of the voice of female executives."
Matt Scheckner, executive director of Advertising Week, says, "Leading the way forward is the essence of Advertising Week and Clear Chanel Outdoor is a big cog in the evolving landscape. Its partnership with us really builds a bridge from classic to leading edge."