Adrian J Cotterill, Editor-in-Chief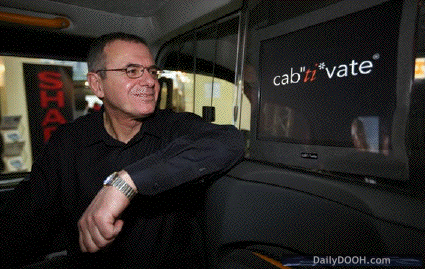 In an interesting turn of events, buried at the bottom of the Cabtivate Networks' press release is the announcement that Eurowide Media Ltd will be selling advertising on the In-Cab TV network.
It would have been almost exactly a year ago that Maurizio Caruzo, then at Hughes was seen walking around the Screen Expo 2007 show with Chris Thomson from Ashingo. A month later it was announced that Maurizio was to join Ashingo.
Ashingo has had a very chequered past and we believe has been close to being (financially) wound up in the High Court a few times now. Only last week Avanti Screenmedia announced that it had effectively taken over Ashingo's on / off / on /off network and media rights at the Bluewater Shopping Centre.
The folks at Ashingo have somehow managed to be the (new) folks at Eurowide Media Ltd.
Anyway, Cabtivate itself is of course no stranger to controversy, initially wound up in Edinburgh leaving lots of irate taxi drivers in its wake (and bills to pay), it was as we reported first bought out of administration by the Russian business IMTV.
This time around the business owners stress in the Press Release that "There is no financial risk to cab owners" and go on to say that "they do not have to pay a penny towards its installation" – with a business model like that you can only guess that these guys are well funded (or daft).
Anyway, it will be interesting to see how they get on. The key thing as always is to ensure that the media planners and buyers are okay with this.
Cabvision in London also, is the pioneer here of course and has had some success in the marketplace. It's known by many brands as a good way to target an ABC1, under 35, affluent audience in London and has been used most recently to good affect by brands like Chanel for example.
Cabvision by the way, used to pay drivers of Cabvision equipped taxis UK PDS 1,000 each year when they first started – subsequently reduced (much to the chagrin of the drivers) to UK PDs 750 last year. With a 1,000 taxis using the system that is a hell of a lot of up front, yearly fixed cost!
Anecdotally, only last week on our way back from Screen Expo we were in a cab so-equipped, we asked the driver about the system and he was very positive – we asked his input on what proportion of people he thought liked the system and he reckoned about 70 / 30 in favour. In Taxi Cabs of course, if there are two of you in the back you tend to talk to each other and if there is only one of you – how many of you get out your mobile phone and make calls between mtgs?
The thing we don't like about any captive audience network (Cabvision included) is the ability to change channels or turn it off – it ain't very captive then is it?
We see that In-Cab TV has a fixed 20 minute loop which we think is a great start – Cabtivate wouldn't do badly by simply following what Matchday Media do with their 15 minute (half time at football stadiums) programme – i.e be as much like TV as you can and make it EASY for the media planners and buyers to understand you!!
Cabtivate NETWORKS' 'In-Cab TV' narrowcast platform launched at London's Screen Expo in the first week of February and instantly gained the interest of a wide cross section of the show's attendees.

"We know we have a great product in Cabtivate," said Tony Yammine, Chairman of Cabtivate Networks. "This is a new type of media and in world that is saturated by to advertising to such an extent that it is hard for companies to compete, one that is ideal for the launch new products.

"We have made a substantial investment in Cabtivate, so making sure we created the right impression at Screen Expo was extremely important to us.

"We not only had the Cabtivate stand where potential customers could experience the power of our offering first hand, we also sponsored the entrance to the show and held a presentation on the first day, which we were pleased to see was very well attended.

"Overall, the show was a great success for us. In fact, an order for 2,000 London taxis was negotiated while we were there, which is an excellent outcome for our trade show debut."

The Cabtivate system is unique in the way it incorporates regional content and advertising, broadcasting it via a flat screen mounted behind the drivers cab. This is linked to a central server via satellite, allowing instantaneous updates to be made to the content. Cabtivate has already been dubbed 'the advertiser's dream'.

Unlike competitors' products, the 15-inch Cabtivate flat screens are positioned ergonomically, directly behind the driver's head. The content consists of material such as movie trailers, short films, music videos, online news and regional weather forecasts or services. The blended content is closely matched to demographics and journey research to create an arresting platform for advertisers, who can run sponsorship or advertising embedded within the content. The content is on a 20 a minute loop, with five minutes dedicated to advertising. The loops are changed during the day to ensure that there is no 'boredom factor' for frequent users.

The system is instantly updateable – content management and signal are centrally controlled from Moscow via satellite/internet, with backup systems in the UK and US – and thus has the capability to show certain content when passing a specific location. For example, a welcome advert when picking a passenger up from an airport, a film trailer when passing a cinema, or shopping ads while passing a certain department store.

Only 25 per cent of the content on the system is dedicated to advertising, meaning the space is at a premium and advertisements have more impact on passengers. One television company in Bristol has already dubbed the system 'the advertiser's dream' because its truly captive audience and its innovative content is going down a storm with drivers and passengers alike.

The LCDs in each cab are centrally connected to a player, which is unified via satellite/Internet to the content manager. Along with the screen, a CPU, an interface unit and peripherals as well as a driver display unit are installed in to each cab. The volume controls and on/off switches are located to the right of the passengers, and the two speakers just behind them. Two antennas are located on top of the cab; one is a WLAN antenna and the other is a 3G antenna.

Independent research has shown that Cabtivate has a higher recall figure than all other urban advertising mediums combined and that 92% of passengers in taxis watch the screen for all or most of their journey.

The company also estimates that as many as 100,000 people will view the system every month per 50 taxis – meaning the audience reach is huge.

Cabtivate has recruited London-based Eurowide Media Limited www.eurowidemedia.com to begin its assault on the UK capital's advertising industry.

There is no financial risk to cab owners, in fact, taxi owners will receive an extra considerable income a year for having the system installed in their cab, and they do not have to pay a penny towards its installation.

The systems capabilities do not stop at the taxi network. Cabtivate Networks is designed to work across a range of other transport systems including trains – both over and Underground – and buses.

Cabtivate Networks will also be exhibiting at Digital Signage Expo in Las Vegas from 27 to 28 February.