Back by popular demand during New York Digital Signage Week and continuing the trend – or is it a theme?, Ed of people putting on 'innovative' events, is the Digital Signage Federation 'Coffee & Controversy' Breakfast debate, which takes place on Tuesday, October 25, 2016 at Guy's American Kitchen & Bar in the heart of Times Square.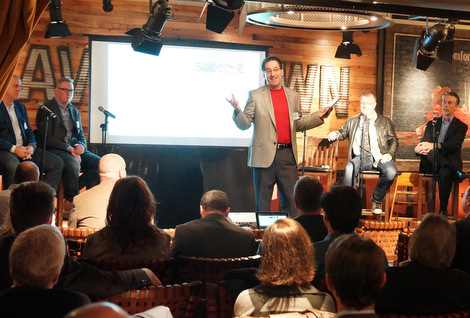 Once again, immediate past Chairman Ken Goldberg – who did the job superbly well last year, Ed, will emcee the discussion. Attendees are invited to suggest panel topics by tweeting to @DSFederation with the hashtag #coffeetopic.
The featured panelists are: –
Jennifer Davis, Chief Marketing Officer, Leyard and Vice-President, Marketing and Product Strategy, Planar Systems
Jeff Hastings, CEO, BrightSign
Phil Lenger, President & Creative Director, Show + Tell
Bryan Meszaros, CEO & Founder, OpenEye Global
Registration for the DSF's Coffee & Controversy Breakfast is available on the DSF website here
The event will run from 8:30-10:15am followed by the Show+Tell Digital Design Walking Tour, which departs at 10:30. A breakfast buffet will be served starting at 8:30am and the panel discussion will start at 9:00am. Admittance is $10 for DSF Members, $30 for non-members and will include the breakfast buffet.
The Show+Tell Digital Design Walking Tour of digital signage installations and projects around Times Square will feature the premiere of the 'Tour Guide App'.
The Tour Guide App uses the same cutting-edge Pokemon-style AR technology to guide participants through New York City streets. The app is custom-made both for iOS and Android to ensure that those on tour can see the brightest and biggest digital signage installations at their own pace, get behind-the-scenes information and technology specs on the displays and the teams that made them.
Location: Guy's American Kitchen and Bar, 220 W. 44th St., New York City, 10036 Cost: $10 for DSF Members, $30 for non-members
Date/Time Tuesday, October 25, 8:30-10:15am, tour follows at 10:30a
Spots for both the Breakfast and Walking Tour are limited, registration will be confirmed on a first-come basis.
#ff @BrightSign @planarsystems @LeyardUSA @openeyeglobal @bryanmeszaros @ShowAndTellNY @philshow @NEOCAST