Adrian J Cotterill, Editor-in-Chief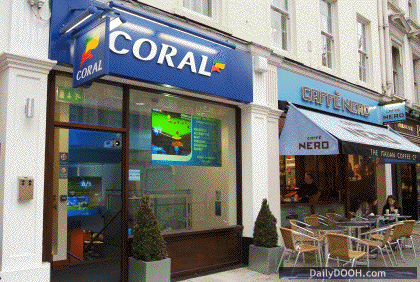 There's only so far you can take the excitement of plastic film on a window and we guess it is indicative of 3M's lack of success (at least in terms of massive rollouts) that anyone who puts Vikuiti film in their window seems to get a Press Release of their own!
The latest is the bookmaker Coral Racing, a division of Gala Coral Group Ltd,
We jest slightly but doesn't the picture above look great!! Notice also that it was taken in natural daylight.
The story here is actually how great it is that Coral Racing are using dynamic window displays not the film in the window itself. In 3M's press release, Shaun Giblin, Product Delivery Manager at Coral, explained how Vikuiti Rear Projection Film is working in the windows of four of its UK betting shops when in fact what is really exciting is that they are putting some form of 'digital signage' in the windows at all!
He said "Since many of Coral's products are based on events occurring during the day, presenting product and marketing information in real time significantly enhances the experience we deliver to our customers".
For 3M's benefit he continued "The visual impact and functional capabilities of Vikuiti Rear Projection Film have proven extremely important in meeting our goals, by supporting vibrant content, integrated with our live data broadcast solution, to make betting more fun and easier to access."
Coral has window screens at only a few branches; London's Brompton Road, London Wall, Cardiff and Southend-on-Sea.
The screens are 65-inch, 16:9 widescreen films, applied directly to the inside surface of the public facing shop windows, with an additional 85-inch screen installed inside the premises at Brompton Road.
Coral use their own system for, what we call 'signage'; Coral's Broadcast Information Display System (BIDS) allows the stores' window marketing to be centrally managed from the company's broadcast studio in Barking.
All very clever. We believe that Coral is currently measuring the impact of its pilot systems on customer flow and turnover and it will be interesting to see whether they see enough benefits to do all or more windows (we are sure they will).