Gail Chiasson, North American Editor
This month we welcome Chad Harris, Owner-Operator, Las Vegas Billboards, Las Vegas, Nevada, USA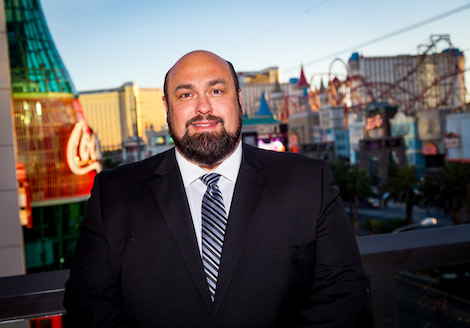 With Las Vegas Billboards being a family-owned firm founded in 1987 by your father, Dave, you grew up in the business. Tell us about that, and what other experience you gained before launching the Digital Out-of-Home sector within Las Vegas Billboards? Is Dave still active in the company?

My billboard career started when I was 16 years old. As soon as I got my driver's license, my father gave me an old Ford Bronco, and along with it, my first job. I serviced the generators that we used to illuminate some of our boards, and checked the lights on all our other locations. Over the past 25 years I have worked in just about every aspect of our business: leasing land, permitting, billboard installation and construction, advertising sales, digital scheduling, accounts receivable, accounts payable, government relations, acquisitions, and now overseeing operations.

Those early experiences came in handy when we built our first digital locations in 2006, and for how DOOH has evolved since. With DOOH, we have found that educating our clients is very important: making sure they understand what they are receiving, and what works best for their needs. I've found you have to really understand something before you can teach it to others, and working my way up in this business and the skills I learned come in handy every day.

Location and technology are always going to be really important, and we have some of the best locations in Las Vegas. We partner with Daktronics to provide our high-quality digital panels, and I really appreciate their cutting-edge equipment and software and the fantastic people who stand behind their product.

My father is no longer officially involved in the business, but he still stops by the office every day, and brings his 50-plus years of experience with him. That knowledge is invaluable, and I lean on him for advice. My dad is not only my mentor; he's also my hero, and my best friend.

I believe you have somewhere between 20 and 30 digital billboards. Are some of these double-sided boards? Who handles the Content Management System for them, and why did you choose that company?

We have 26 digital billboards and we expect that number to continue to grow. Our inventory includes single-face locations, double faces, and a very unique three-sided digital billboard at the heart of the tourism corridor on Interstate 15, the main freeway bringing people to The Strip.

Our content management team is all in-house. We recognize that Las Vegas is a 24/7 town, so Las Vegas Billboards is a 24/7 business, and we offer unlimited content changes. If you send over 100 pieces of creative a day, we'll schedule it. We have the ability to schedule or change content on weekends and evenings, and we have that extra layer of quality control to ensure the right content is playing at all times. Things change, often at the last minute, and it's important for us to be able to react and see those changes within minutes. Last year we were scheduling content at 10:00 pm on New Years Eve.

Your DOOH boards offer 10 second ad displays, which you say provide 20% – 30% more ad time than the industry standard. Why do you do that?

That's part of the 'secret sauce' that makes Las Vegas Billboards unique. Typically in our industry, other companies provide customers with 7-to-8 seconds for an ad display. But when our advertisers were concerned that their ads weren't displayed long enough, we listened, and we changed to meet their needs. That 10 second hold time exceeds our advertisers' expectations, and translates to more people seeing their ad. We also don't run self-promotional advertising, because we choose to give that time back to our clients.

How many traditional Out-of-Home boards do you have? I notice that they all seem to be the one size (14' x 48') as are most of your DOOH boards. Are you planning to transform any of your traditional boards to digital?

We have 20 traditional structures. Within that inventory, we have a few 12' x 24' panels, but the vast majority of our traditional inventory are 14' x 48's. We are currently looking at various ways of growing our inventory, and that includes converting some of our traditional locations to digital.

You do offer three larger 20' high x 10' wide DOOH billboards at the corner of Paradise Rd. and Harmon Blvd., and these carry identical 15-second messages. I believe you also offer similar boards in the McCarran Airport area. If other advertisers or the real estate companies with whom you work want different sizes, can you accommodate them?

We pride ourselves on being consultants to our clients, and not just sales people. We have a team of smart, hard-working people who really understand this business, and just as importantly, this town. We partner with all property owners and take those relationships seriously, and give one-on-one attention to all our advertisers to come up with their individual strategy. We don't have thousands of advertisers, so we're able to give all our clients special treatment.

What do you consider the most spectacular creative ever run on your DOOH boards and why?

The most spectacular creative we ever ran was not on DOOH, but rather on a traditional face we used to own on Las Vegas Blvd., also known as The Strip. A gambling website approached us to place $100,000, all in one-dollar bills, on a face. The money was secured in a Plexiglas box, and we hired security that stood by our structure 24/7…almost. Eventually the box was broken into while security was across the street at McDonalds. The advertisement made worldwide news.

There are a total of 2 million residents plus 40 million tourists visiting Las Vegas annually. Are these figures provided by the Las Vegas Convention Bureau? What other type of useful data do you have on your audiences and who provides it for you?

Las Vegas grows so fast. Would you believe the latest data actually shows 2.2 million residents and 43 million tourists annually? All of our locations are GeoPath audited, and we also check in with the LVCVA (Las Vegas Convention and Visitors Authority) for statistics, among other sources. Having fresh, reliable data to provide our advertisers is crucial in today's marketplace.

Las Vegas is more of an adult business and/or adult vacation destination, so what kind of advertising do you get? Is entertainment your largest advertiser on DOOH? What other sectors are your biggest advertisers? Is it the same for both your DOOH and OOH boards?

Las Vegas is a destination for everyone. Our company actually doesn't even run 'adult-oriented entertainment' advertising. So many of our advertisers wanted to avoid running an ad next to that type of advertising, it seemed easier to just avoid it altogether. We might be the only billboard company in town that takes that stance, but we're a family-owned business, and it's not something we need.

There is such a diverse mix of advertisers here. While the more predictable gaming, entertainment and tourism sector plays a huge role in the success of our business, Las Vegas is also home to booming healthcare, construction, automotive and legal industries. We have the best convention facilities in the world, as well as premium shopping and dining, and we're a short drive from so many national parks and natural monuments, including Hoover Dam and Lake Mead. And now, we're even becoming a sports town, with the success of the NHL's Golden Knights, Ultimate Fighting Championship (UFC), WNBA Aces, AAA baseball, professional soccer and soon, the NFL's Raiders. There's a lot going on, and we see crossover from all of these advertisers in traditional OOH and DOOH. And we feel we have something to offer on our DOOH for all advertisers, from the small business owners to the national and international brands.

Other than a few places such as the huge beach pool and the Shark Reef Aquarium at Mandalay Bay Resort, there do not seem many attractions for tourist families with young children in Las Vegas. Does that make it difficult to attract advertisers for that sector?

I have a young daughter, and we are never lacking in places to go or things to do. Siegfried and Roy's Secret Garden and Dolphin Habitat at the Mirage is phenomenal. Discovery Children's Museum is a favourite, SeaQuest Aquarium near UNLV, The Lion Habitat Ranch in Henderson, the Tree House play area in Downtown's Container Park and the mermaids at The Silverton are all so fun. For half the year, we have splash pads at outdoor shopping centers like Town Square on Las Vegas Blvd., or The District at Green Valley Ranch, and the obvious plethora of pools and parks make Las Vegas, and surrounding areas like Summerlin and Henderson, a great place to raise a family. We're fortunate to work with many advertisers focused on parents and children, and our family-friendly company policies encourage and reinforce that.

Do many of your advertisers tie in their DOOH ads with online advertising? Can you give us an example?

I always like the idea of a well-rounded marketing plan that connects OOH/DOOH and online advertising, and most of our advertisers follow that model. A billboard with really effective creative can help increase traffic to your website, and give you the opportunity to sell your product or service. Keeping the branding simple (yet attractive) will drive eyes to your message. Then you can close the deal on your website.

You have an excellent website as a real selling tool, comparing DOOH to various other media, as well as giving necessary creative specs and more. Do many agencies and/or advertisers use it?

Thank you, we certainly hope advertisers use the resources we provide online. We think of our website as a tool we offer our clients, and we frequently update and improve it. We want to be educators of our industry, and a well-educated advertiser will hopefully be a more successful advertiser.

Tell us how day-parting is used on your digital billboards? Can you give us a couple of recent examples?

Many of our resort advertisers use day-parting, and the best example is an off-Strip resort, The Silverton. Its marketing director has mastered day-parting, and the messaging is always fresh and creative; we have a playlist of more than 20 different pieces of content that change weekly.

Quality branding helps your campaign, and for most advertisers that includes not allowing your content to become stale. We do see some clients that run the same creative for years, with a lot of success, which shows how important it is to have good content and brand recognition.

In such a busy, bright and competitive market, how difficult is it for you to obtain permits for DOOH boards?

Las Vegas is a very competitive market, and our municipalities have rigid guidelines for their permitting process. In Clark County, which encompasses the majority of our land in Las Vegas, billboards are legal non-conforming – and therefore we are not allowed to build any new structures. But we are allowed to convert existing structures to digital. Other municipalities have been built out over time, so getting a new location is like finding a needle in the haystack. It helps that I grew up here and my father was in the business, so we know this market better than most, and know where many of the needles are.

What are your thoughts on programmatic buying? Are you using it yet? Why or why not?

Billboard advertising is such a unique service; it's not like buying a shirt online or booking a hotel room. When people spend money on a service, they want to feel value. They want to know where their money is going, and what to expect in return. We have used some third-party programmatic buying services with little success, but I think these types of services will continue to grow and evolve in the future and hopefully reach a place where they can have more traction.

You recently hired Blake Bradley as part of what you told DailyDOOH is a Las Vegas Billboards 'aggressive growth campaign to further expand the company's market presence.' Are you looking at more DOOH boards? A new type of product? Tell us how you see Las Vegas Billboards in these terms by the end of 2020?

Las Vegas and DOOH are both experiencing a renaissance of sorts, and we are firm believers that Las Vegas Billboards is in the right place at the right time with the right product. We are always looking at more DOOH boards and growth opportunities, as well as new technology to keep us ahead of the curve. We have a great team in place and our internal systems are the best they have ever been. By the end of 2020, I expect significant growth in the size of our current offerings.

You also said that you want to 'broaden Las Vegas Billboards' reach for a growing range of local and national advertisers.' Could you expand on that?

Being well-rounded, and having locations around Las Vegas to appeal to both locals and tourists is part of our growth plan. We have a very strong presence along I-15 coming in from Southern California, and our locations on US-95 and I-215 for commuters from Henderson and Summerlin are some of the best in town. In 2018, we built four new digital panels in the northwest Summerlin area of Las Vegas, which is a market we had never been in before. It pains me when an advertiser requests a location in a specific area and we don't have inventory there, and this drives me daily to find and develop new locations.

How large a staff do you now have? Are there more hirings anticipated in 2019? What are you considering in that regard?

There are currently nine of us here at Las Vegas Billboards, and every person is a specialist in what they do. We outsource our billboard servicing and construction, which gives us the feel of a smaller business and allows us to do things such as providing daily staff lunches, multiple holiday parties and even massages. Being a boutique billboard company really sets us apart. There is no red tape. My sales staff can access me just by walking down the hall. But as we grow, I could see adding additional support and sales staff.

Can you envision growth for Las Vegas Billboards beyond Las Vegas and Las Vegas Valley? Why or why not?

We are a young, aggressive company and are always looking at opportunities for expansion. We have consulted in Phoenix and Los Angeles, but for now, we are hyper-focused on providing the best billboard service experience to our advertisers here in Las Vegas.

You recently said, "We believe we are providing a service, not a product." Could you give us some details on your thoughts, your philosophy, your vision?

If you connect with your customer and provide a service that leaves them in a better place than they were before they found you, you not only gain a client hopefully for life, but also that client is going to be a testimonial to their friends, family and to other businesses. Our sales philosophy is to consult with our clients, find out what their needs are and how we can help improve their business.

My father has always preached honestly and integrity, if you say you are going to do something you follow through with it. Everyone here is held accountable. If you make a mistake, we identify it, address it and cure it. Our culture here at Las Vegas Billboards is important.