Adrian J Cotterill, Editor-in-Chief
Portrait of Britain is the largest exhibition of contemporary portrait photography ever held, as much a celebration of photography as it is a celebration of the diversity of the UK's people. Now in its fourth year, British Journal of Photography launched the nationwide exhibition on September 2, 2019 across JCDecaux UK's national channel of digital screens.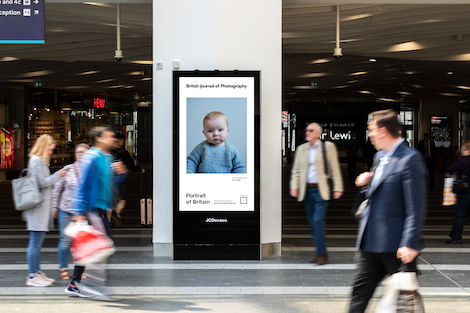 Mark Bucknell, Chief Commercial Officer of JCDecaux UK told us "We are delighted to be part of Portrait of Britain for its fourth year. This unique collaboration with British Journal of Photography utilises the reach and scale of Digital Out-of-Home to showcase 100 winning portraits of people from many different walks of life across the UK. By celebrating and championing diversity, this exhibition will undoubtedly inspire people as they shop, travel, and socialise in cities nationwide".
The public will encounter the winning photographs as they go about their daily lives; in rail stations, shopping malls, high streets, and at Heathrow Airport.
Following an open call by British Journal of Photography earlier this year, thousands of portraits were submitted, and judges had the task of selecting the 200 shortlisted images from that number. All 200 images will be printed in the Portrait of Britain Book Vol.2, published by Hoxton Mini Press, and released on September 5, 2019.
Once again the range of images reflects the unique diversity of modern Britain, with portraits ranging from Max Miechowski's portrait of a young couple salsa dancing in Burgess Park in London, to Shaun Ryder glaring at the the camera for his portrait by Theo McInnes. Some are chance encounters, some are staged for the camera, but all are arresting in their portrayal of the British people. Some, like Sirli Raitma's portrait of her mother, also have a healing quality. Raitma started taking pictures of her mother to help her combat depression after moving to London widowed and suffering from epilepsy, and the portraits have helped combat this and boosted her confidence.
Simon Bainbridge, Editorial Director of British Journal of Photography said "With the return of Portrait of Britain, the question of national identity has never seemed so loaded. Facing a divided nation, Portrait of Britain aims to frame these questions of identity differently, looking at who we are as a nation of individuals, apart from the politics of division. From Brighton to Glasgow, in train stations and shopping centres, the photographs come into view like an encounter with a stranger in the street. Collectively, they question the binary narrative we are constantly fed".
The winning images will be displayed as part of the Portrait of Britain exhibition from 2 September, to be viewed across the country for one month. The book, published by Hoxton Mini Press, will be launched on September 5, 2019.