Adrian J Cotterill, Editor-in-Chief
Whilst I was in Copenhagen last week I took the opportunity to look at a number of screen network rollouts.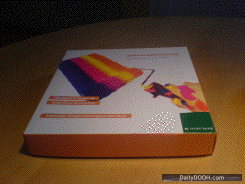 I am incredibly impressed with what Jyske Bank has done. This looks to me like it is Denmark's biggest Digital Signage installation.
Many of the retail banking rollouts of digital signage in EMEA have been bland and uninspiring – a reflection of the typical retail bank perhaps 😉
I have stood in front of many senior execs of big European retail banks and presented what I think should be their digital signage strategy. I have also, in the past, worked with Cisco to develop their Bank of the Future concept at their European headquarters.
As always content is key but the venue ambience is even more important.
I think I have mentioned before how much I wanted to hate Immedia Broadcasting's HSBC-Radio (a live person radio broadcast sent to 400 UK branches). Horrible I thought. Absolutely horrible. However if you visit one of the branches where it is deployed (Swindon is my favourite), it is inspired. Together with a total re-vamp of the HSBC Branches (they look and feel more like airport business lounges and / or a coffee shop seating area) the right ambience is created and it somehow works together.
Whilst the Scala based Rabobank screen rollout is still the largest in Europe, to me the rollout is simply "screens plonked in a branch".
I am beginning to realise that this approach won't work in any retail situation and even more so will NOT work in retail banking – certainly those who try that antiquated approach will not get 100+ size rollouts.
Working on the rest of the retail bank environment if you like – the layout, the aura, the merchandising, the tables and chairs is something that John Ryan International have always prided themselves on, indeed it has been the primary focus of their business for 20 years or so now.
Joe Garner at HSBC was recruited from the retail stalwart Dixons Stores Group to help HSBC focus on their retail environment – he introduced Immedia to some of his branches for exsample and introduced the concept of "seasonal sales". This is the sort of activity that is going to get your brand noticed and is the sort of process that is going to allow screens to work.
This holistic approach is always what I suggest a retail bank does – unfortunately more often than not, screens end up in between Technology and Operations / Merchandising and any ambience efffect falls through the gap in the middle.
Anyway to my point then. Jyske Bank have spent a lot of time thinking about what they want to be. Their retail environmment is superb. Lots of space and natural lighting, a coffee bar, restrooms, a thing called a money-bar – all relaxed and well laid out. They talk about being "the Retail Bank at the centre of the community" – similar to the neighborhood coffee shop.
The rollout covers 125 branches with on average 9 displays per branch. They seem to have have a large number of channels, but most of the screens fall into 1 of 4 categories; Window (looking out onto the street), Coffee Bar, Money Bar and Restrooms.
The screens in the Windows (which looked like LCDs) are worth a mention because they were useless. Bright light (even on an overcast day when I was there on Friday) meant that the 3 screens in the Windows were rendered unreadable.
When will people realise that putting LCDs or Plasmas in window display simply does NOT work. Whilst many would argue that say ITrans, LED or OLED technology is more expensive (it is'n't necessarily actually – Virgin Megastores in the UK has rolled out ITrans in half a dozen store windows and is looking at up to 19 in total), one of these rather than 3 unreadable screens is a better financial investment.
Rather than the Jyske Bank network being put into place piecemeal, it was (I have not heard of this happening anywhere else before), put into place and then turned on at the same time!!!!
IBM are the incumbent IT partner to the bank and basically chose product and carried out all the installation work.
IBM chose Planar's Coolsign as the Digital Signage solution. Apart from a network that Coolsign have in India, I believe this is their biggest network deployment outside of North America.
Impressively also, the bank together with Screenvisuals are working on ways to measure the impact of all of this – perceptively and cognitively I am told.
I have seen the future of retail banking; it's Danish, it has coffee (but doesn't accept Euros) and importantly for us it has screens.
There is also a nice video from Jyske Bank about themselves…
http://www.jyskebank.dk/jyskebankinfo/home/home/220771.asp