Adrian J Cotterill, Editor-in-Chief
Lucid Outdoor will unveil two giant LED screens at the heart of Stockport's GBP 1bn redevelopment next month.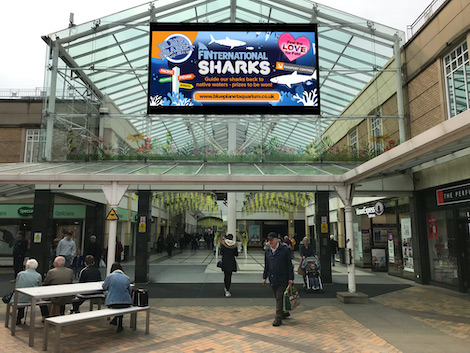 The large format HD displays will hang permanently in Redrock and Merseyway shopping centre as part of Stockport Council's ambitious regeneration plan. They will measure 8m x 4m, and 5m x 3m, respectively.
Their addition is part of an initiative to promote and animate Stockport town centre and increase dwell time in its public areas. Each will begin screening live sports, films, local events, weather reports, traffic updates and advertising from the start of June. They will also offer interactive gaming and social media capabilities.
The screens will operate from 6am to midnight each day, allowing advertisers to pitch brand messages, flash sales and adaptive offers to Merseyway's eight million and Redrock's 800k annual visitor footfalls.
Lucid Outdoor has signed a contract with Stockport Council to sell advertising packages on the displays. Ads, featuring static or animated content, will run for ten seconds of every minute, for two week durations.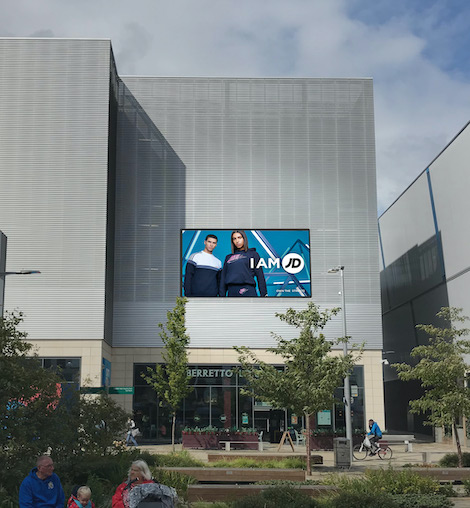 Stockport's local businesses and public sector bodies will receive discounted advertising rates and first refusal on advertising slots. An advertising launch partner, local to the town centre, has already been secured. National brands have also been approached and shown keen interest in taking slots on the screens.
Lucid Outdoor Managing Director Mike Cleary told us "The addition of the full motion screens in Stockport town centre is a significant development in Stockport Council's plans. Outdoor continues to grow in technical capability and stature as an advertising medium. This will be a fantastic opportunity for local businesses to maximise their share of the retail and leisure spending power of the area. As a local company we are very proud to have won this contract in such an iconic area and add it to our portfolio of out-of-home opportunities for advertisers."
Cllr David Meller, Cabinet Member for Economy and Regeneration at Stockport Council said: "The digital screens will be a fantastic asset to the town centre and are a great way of communicating with the public to promote the council's campaigns and messages throughout the year. They'll also complement our improvement plans to Merseyway, which will be underway very soon and, perhaps most importantly, provide even more opportunities for people to visit our town centre. I'm particularly excited about the prospect of fan zones and gaming tournaments: we're determined to have a broad and exciting offer within our town centre and the screens will help achieve that. All this, along with the recent transformation of the Market Place and investment in the Underbanks area, will make Stockport even more attractive to potential advertisers and visitors."
Lucid Outdoor is an out-of-home digital advertising agency. The company offers traditional and digital advertising opportunities across eight Salford Community Leisure Centres as well as in private health clubs such as 3-1-5 in Lancaster. Lucid Outdoor also provides mobile media large format LED screen hire for outdoor events, including the 2018 World Cup fan zone at Bury's Village Hotel, and partnered with ADXBA to build and manage the HD, large format state-of-the-art AJ Bell digital screen at the EQ4 site on Trafford Road, near to Media City UK and the M602 junction.