Moving Walls has announced a partnership with global mobile location data player, Quadrant.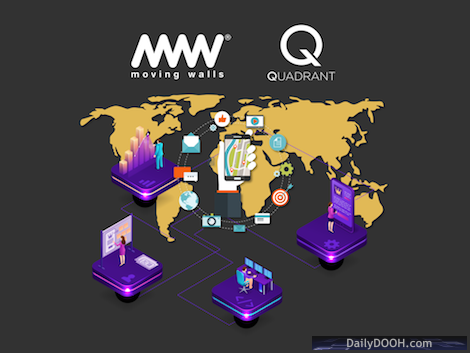 Navonil Roy, COO and Head of Data, Moving Walls told us "No single data source has the perfect solution. We are excited to onboard Quadrant onto our global location data solution. Having this added layer of mobile consent tracking will close many loopholes of outdoor like privacy, compliance and also wholesomely connect digital footprints of outdoor audiences".
We are told that this partnership allows Moving Walls to tap into Quadrant's globally compliant location data across multiple markets, and enrich its current patented multi-sensory measurement approach.
This partnership with Quadrant enriches Moving Walls existing data sets by adding a layer of mobile location data gathered from mobile SDKs across the world, enabling Moving Walls to analyse location-based audiences. This partnership further builds on Moving Walls' efforts of strengthening the understanding of the audience at physical billboards, across geographical markets.
Mike Davie, CEO of Quadrant told us "Bringing MovingWalls' unique multi-sensory solution and Quadrant's location data together will help Moving Walls increase their reach and understanding of audiences in specific locations. This is especially important today as we enter a new paradigm in consumer behaviors. Additionally, Quadrant's coverage across multiple global markets allows Moving Walls to deepen its location data coverage, and Quadrant's Consent Management System (QCMS) will allow for the tracking and mapping user permissions to address increasing privacy requirements".
Moving Wall's multisensory approach is unique in the industry. Most location data companies focus on a single technology and are challenged by the intrinsic strength and weaknesses of the data capturing capability of that technology.
Site owners and media buyers are adopting a range of measurement approaches for outdoor advertising. However, the fact that outdoor advertising is present on different types of locations means no one location sensor is robust enough to measure all types of assets.
Moving Walls works with multiple data partners using multiple technologies like GPS movement, traffic data, Internet of Things (IoT), Social Media, beacon LAMPs, telecommunication data and video analytics to build a comprehensive understanding of audience volumetrics, behaviours and profiles. Having an added layer of Mobile Location Data will further enhance the depth of the current data sets and multiple independent data sources ensures that the data provides a robust estimate.
Quadrant is a data and technology company that helps data professionals obtain and utilise high-quality authentic mobile location data. The Quadrant Platform processes over 120 billion records a month and allows companies to choose, source and transact location data that is fit for purpose from around the world quickly and efficiently. Quadrant Protocol is the underlying data protocol that uses blockchain technology to authenticate and map the data supply chain.