Russ Curry, Ministry of New Media
Today, the DPAA, the leading global trade marketing association connecting Out-of-Home (OOH) media with the advertising community while moving OOH to digital will be holding its first Member Town Hall of the year at 11am EST (Thursday March 25, 2021).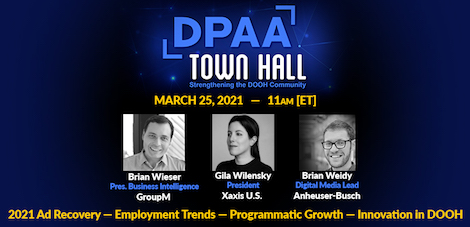 Speakers include Brian Wieser, President, Business Intelligence for GroupM; Gila Wilensky, President of Xaxis U.S.; and Brian Weidy, Digital Media Lead for Anheuser-Busch.
Barry Frey, President & CEO of DPAA "As economies, the advertising market and Out-of-Home recovers and rebounds this year, regular close communication and connection with our members is more important than ever. The online nature of the Town Hall enables our members from across the globe to attend and participate."
DPAA's Member Town Halls are designed to keep members informed of updates and learning in the advertising/media ecosystem and the growing role of Digital Out of Home in today's omnichannel world. Topics to be discussed at the event will include latest forecasts for the 2021 ad recovery, the growth of programmatic buying, employment trends, and innovation in DOOH. The association will also announce its slate of webinars, events and programs including those focusing on DEI and its successful WE.DOOH (Women in Digital Out of Home) initiative.
DPAA regularly engages with senior brand and agency executives updating them on innovations in the sector. Last year alone DPAA spoke with over 200 brands and agencies and over 6,000 people attended the association's webinars and online events.
DPAA now has members in EMEA, North America, South America, Asia and Australia.