Adrian J Cotterill, Editor-in-Chief
RentHop announces RentHop RentCompare, a new tool that allows renters in New York City to find out if they're overpaying or underpaying for rent, with a corresponding Metropolitan Transportation Authority (MTA) subway ad campaign.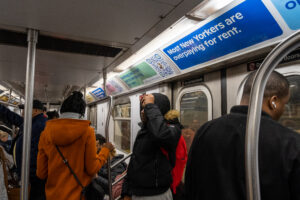 While the average rent in NYC has been widely discussed over the last year, RentHop RentCompare offers additional context and a more personalized view of how rental trends directly impact renters. New Yorkers can now easily find out if they're getting a great (or not-so-great) deal and feel confident in their decision to renew their lease or move elsewhere.
NYC-based technology, design, and branding company Big Human served as the product strategy and creative agency for RentHop RentCompare and the ad campaign, which highlights common renter woes. To encourage New Yorkers to use RentHop RentCompare, the subway ads take on familiar occurrences such as the desire to compare your rent to someone else's, pushing a relationship to its next level to save on rent, and the constant nagging question, "I know NYC is expensive, but am I overpaying for rent?" As the rental season picks up and New Yorkers and newcomers alike start looking for their next apartment, RentHop's subway ad campaign demonstrates that the apartment search can be fun and data-driven with RentHop RentCompare.
RentHop RentCompare is a dynamic tool incorporating real estate data and localized knowledge, RentHop RentCompare shows whether a renter is overpaying or underpaying for rent based on their neighborhood and bedroom size. Landlords and industry experts benefit from this tool to view real-time market fluctuations.
RentHop RentCompare takes the guesswork and mystery out of apartment hunting and empowers renters to continue their lease with confidence, proactively prepare to streamline the search for their next apartment, or negotiate their rent.
By entering their email, RentHop RentCompare users will have access to a newsletter with personalized quarterly updates about rents and comparisons to stay informed and ready for when it's time to move.
"RentHop's mission has always been to simplify real estate decisions using data and quantitative analysis," said Lee Lin, CEO of RentHop. "Given the unique macroenvironment over the past three years, RentHop RentCompare is a crucial tool that all New York tenants and landlords should consult as they navigate their leasing choices this year."
RentHop was founded in 2008 and describes itself as the last major open listing-friendly platform. With both open and exclusive listings and over 20,000 ads in NYC alone, RentHop gives users access to more inventory while browsing real estate. Combining tools, data, guides, and listings, RentHop is a one-stop shop for renters looking for a smarter apartment search.