Adrian J Cotterill, Editor-in-Chief
Look carefully out of the window on this double decker bus in London.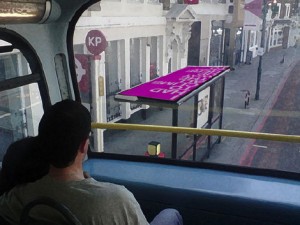 What do you see? That's right, an LED placed horizontally on top of a Bus Shelter.
LED panels on the roofs of London bus stops are among 12 specially commissioned artworks being created for the 2012 Olympic Games.
That's correct, the first major project of the Cultural Olympiad will include Bus-Tops, by Alfie Dennen and Paula Le Dieu, which aims to provide Londoners with a new way to display their creativity, express what is special about their city and to talk to one another.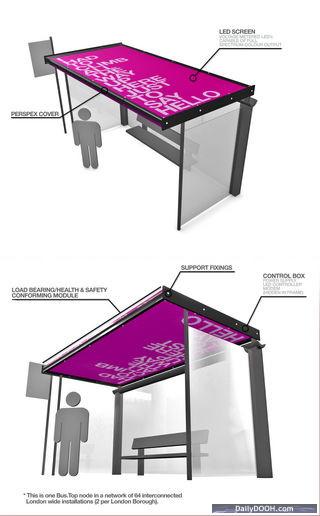 The Arts Councils of England, Northern Ireland, Scotland and Wales joined forces to launch the GBP 5.4 million project competition with London 2012 in March this year and we have been closely following the Bus-Tops projects and talking to Alfie on a regular basis.
More than 2,000 entries were received in what was dubbed "the most ambitious and wide-ranging art prize in the UK" and we are so pleased that Alfie and Paula's idea won. They receive GBP 500,000 to rollout their idea.
Alfie has some great ideas about "bringing cities to life" and hopes his art project will be a pre-cursor to much more intelligent cities.
With the budget they have available it's likely that they will be able to install between 33 and 66 LEDs on bus shelters (most probably Clear Channel) and they will be installed between June 2011 and August 2012.
Mock-ups and testing will start early next year. We are hoping that they can bring one of the bus shelters to Screen media expo europe in May 2010 but that event may be just a little too early for them.