Berwin Retail have a number of clothing brands (Paul Costelloe & Daniel Hechter – men's suits) within concessions in House of Fraser stores around the UK.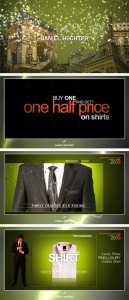 They recognised the need for these concessions to stand out on the shop floor amongst a multitude of other brands. This has traditionally been achieved with a variety of fixtures and fittings, but Berwin were interested in being amongst the first retailer to trial a digital out of home pilot and gain first mover advantage in this retail space.
Berwin have a good understanding of the capabilities and flexibility of a DOOH offering and had already engaged with Dynamax to provide the technical solution. Recognising the need for developing specialist content in this market, Amigo Digital were asked to design and develop the content to be managed and scheduled using Dynamax's flagship POVng software.
The objective from a content perspective was to use this screen as a marketing tool by changing content, messages and highlighting promotional activity in an ever changing and dynamic way.
To do this it was important that Amigo developed a content creation process that enabled content to be quickly and easily updateable at the creation end to allow for seasonal updates to the fashion lines, whilst also providing Dynamax with modular based assets with which they could manage and schedule the entire content loop.
The end result was a set of content assets consisting of a number of key elements:
Text based marketing and promotional messages relevant to current promotions happening in store at any given time.
A set of 6 suit specific content modules per brand with unique suggestions on complimentary Shirts, Ties and Accessories
Branded introduction and conclusion animated stings to provide a seamless loop
All content creation including filming, photography of suits and accessories as well as the design of the content look and feel was developed by Amigo, complimenting the individual brand identities of Paul Costelloe and Daniel Hechter.
The pilot is currently live at 2 House of Fraser stores in Manchester and Leeds with the results being monitored closely; the aim being to demonstrate incremental sales uplift as a result of this DOOH installation, ensuring Berwin get a positive return on their investment.