never.no today announced that its Interactivity Desk is powering part of a unique exhibit, 'From King to Obama' on display at the Nobel Peace Center in Oslo from now until 11th April 2010.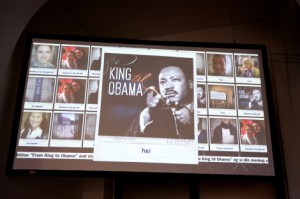 The digital signage portion of the exhibit, whose technology was a collaborative effort between never.no, MORE Mobile Relations, and Active Loop Television invites viewers to post their own text or photo responses using their mobile phones.
The responses are then incorporated by never.no's technology into a collage appearing on the digital sign.
"Norway is known the world over for the Nobel Peace Prize, which reflects humanity's highest aspirations," said Lars Lauritzsen, CEO of never.no.
"It is a pleasure for us as a Norwegian company to contribute to the success of this thoughtful and worthwhile project. We hope people who have a chance to see the exhibit will take the time to make their contribution as well."
About the Nobel Peace Center

The Nobel Peace Center opened in 2005 in a stylishly converted late 19th century railway station in the center of Oslo, Norway. Its objective is to promote familiarity with the lives and work of the Nobel Peace Prize Laureates and Alfred Nobel, and encourage reflection and debate on issues relating to war, peace, and conflict resolution.