Digicom, the UK's leading independent digital out of home sales house – come on guys you are in fact the UK's ONLY independent media sales house, Ed announced today that it has been appointed by Fitzgerald Shurey Tarbuck (FST) and Simply Media Salon TV to sell advertising across both TONI&GUY TV & Simply Salon TV networks.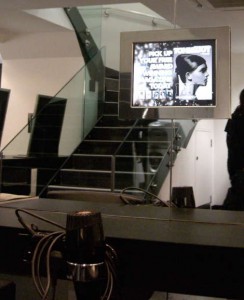 Back in March 2009 after the demise of i-vu, FST and Simply Media entered into their own partnership – Simply Media were to handle agency requests for TONI&GUY.TV alongside their own networks (Simply Salon TV and of course the resurrected remnants of i-vu).
We said at the time that "this is obviously an incredibly sensible move and one that would have made sense had the arrogance of the previous i-vu's management had allowed earlier".
This new deal with Digicom is an even smarter one – even though it may in fact be a tacit admission of failure by Simply Media media sales folks to have made any measurable impact on the market since March 2009.
In March 2009 this 'partnership' was touting 5,125 screens and 6.2 Million impacts (in any two week period) so it's interesting to see Digicom now quote a network of over 3,700 screens in 570 high-end salons and a much more realistic 1.26 million impacts across the same period!
Why do we wonder that sometimes our industry does so poorly when facts and figures are quoted so willy-nilly. Knowing the Digicom people as we do they will have undoubtedly done their due diligence and we can rest assured that these new figures are accurate.
What damage over-inflated figures do to the digital industry and any respect that media buyers and planners have for us is anyone's guess though.
Anyway, the Digicom press release goes on to say that "Together these networks provide an unrivalled way for advertisers to communicate with a desirable captive audience of hard-to-reach 25-34 year-old ABC1s"
The vast majority of whom are women of course and are in a receptive and indulgent mindset with an average visit lasting 90 minutes!
Tom Goddard, Digicom Executive Chairman told us "We are delighted to partner with both these excellent networks and to make the opportunities easily accessible and fully accountable for advertisers. Together they provide a unique opportunity for national brands to reach a highly desirable audience, traditionally one that is very hard to reach, and certainly one that is almost impossible to access in the receptive, focussed mindset that they are in when visiting these salons for beauty treatments."
We wouldn't necessarily say that the networks were 'excellent' – many of them have a lot of work to do and they need to gain credibility both with the hair salons themselves and the media buying and brand communities.
Mind you if anyone can do that then Digicom can. These contracts of course add to Digicom's growing stable of high quality networks including Amscreen's BP Connect, Healthcare and the Powerleague opportunities.