Adrian J Cotterill, Editor-in-Chief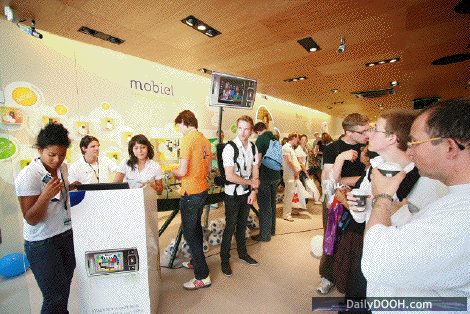 Pixman continue their incredibly impressive expansion with a new reseller in the Netherlands (@Hand Communications) and a rather good 'mobile TV' campaign, same country, with KPN the Telecommunications Company.
@Hand Communications is described as "an agency specializing in brand activation and event marketing. The company is well-known for its quick execution, innovative concepts and its in-house production of technological applications"
Mathieu Bunjes, head of business development for @Hand Communications told us "The reaction to Pixman media is very positive and results have exceeded our expectations and those of our client… several brands we've been holding talks with have shown interest for summer campaigns. Pixman will undoubtedly be successful here!"
Most recently Pixman brand ambassadors in the Netherlands, strategically positioned near KPN stores, have been promoting KPN's brand new Mobile TV – a service that makes it possible to access television networks via mobile phones.
The brand ambassadors were equipped with Samsung P960 cell phones which they then used to demonstrate service features to passers-by and handed out raffle tickets that had to be dropped off at points of sale – the goal being to attract new clients and stimulate sales.
The campaign we are told will continue at open-air festivals beginning next month also.