Gail Chiasson, North American Editor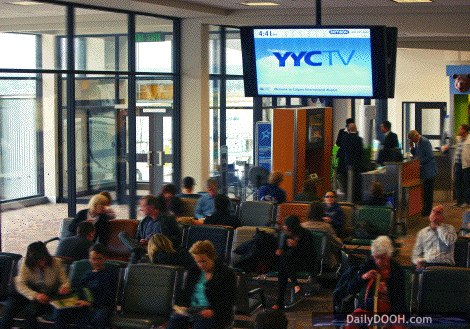 Pattison Outdoor Advertising has added YYC-TV, a network of 46 digital screens to its portfolio of products at Calgary International Airport in Canada.
The 46" wide screens, positioned at key locations in the domestic, US and international departure gates, will air a 15 minute loop of full screen content that will provide business and leisure travellers with local and international news, weather, lifestyle and sports information as they await their flight departures.
Calgary International is Canada's fastest growing airport – on 2007, more than 12.2 million people travelled through it!
As the Calgary Airport Authority's multi-year USD 3 billion expansion progresses, Pattison Outdoor intends to continue to optimize new advertising opportunities in both interior and exterior areas of the airport with digital, vinyl and static advertising locations.
Pattison is the largest out-of-home advertising company in Canada with 20 sales offices from coast to coast.