Gail Chiasson, North American Editor
As Marketing and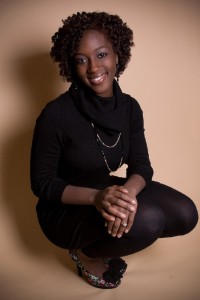 Insights Executive at EYE USA, New York, Andea Primus is responsible for all research-related requests and executions in the U.S., keeping up with industry news and trends, and aiding in generating ideas for EYE USA's next research endeavor.
Describe your personal work space.

My personal work space is usually a mess, but so are the desks of most research geeks (as I lovingly call myself and others in my position).

Research geeks without messy desks aren't doing much work – that's what I say. With all the numbers, reading material and projects, how can a researcher keep a neat desk? (… At least that's what I tell myself :-))

How do you get to work?

I live in Brooklyn so I trek to work each day – a little over an hour each way, as a matter of fact.

I take a bus to the 4 train, but I love my job, so it's worth it. (By the way, regardless of what the MTA survey results reveal, I know that the 4 and 5 subway lines are the most unreliable.)

What is an average day like?

Average day… Hmmm … I don't believe I have those at EYE.

What is essential for you being able to work happily?

I have four essentials:

1 – Coffee: I don't always need coffee first thing in the morning, but I definitely need a cup by noon each and every day. My brain is already on overdrive by then.

2 – Snacks: It's virtually impossible for me to stare at the computer for so many hours at a time without a snack. Snacks help make the day go by with ease. I always have them on hand.

My favourites? Ohhhhhh – I like that question 🙂
Anything related to chocolate: brownies, chocolate chip cookies, chocolate covered almonds, chocolate bars, hot chocolate, chocolate covered pretzels… I'm getting happy just thinking about it.

3 – Common sense: As I often say to members of our sales team, "If you know you have a meeting in two weeks, I shouldn't have your request two hours before you're walking out the door."

4 – Patience: I totally understand that not everyone is research–inclined, but if you are willing to learn, I am more than willing to be patient. I won't give up until you understand.

How flexible are your working conditions?

My working conditions are pretty flexible. As long as my work is getting done, there are no complaints

What do you think your employer looks for in its staff?

EYE is big on accountability – not just as it relates to research – but in all aspects of the business. People who strive to do their best, are passionate about what they do and give 110% (and can decipher an Aussie accent) will do well at EYE.

What suggestions do you have for your company?

My suggestion: Keep doing what we're doing or do it better. Although EYE has only been in the US for four years, we have a great leadership team out of Australia who has helped us pave our way in all aspects of the domestic business. We've grown and are still growing as a major competitor in the U.S..

Do you have any frustrations you would like to share with us?

Are you trying to get me fired? (Laughing)… I, honestly don't. EYE is still a fairly new company and it's been great growing with them.

What do you like best about your job?

Every day is different. One day I could be working on our next proprietary research project and the next, I'm on a client meeting with a sales rep building a case for 'Why EYE'.

The OOH industry is constantly growing and changing, providing a plethora of mediums, research and innovation. There's so much to learn and explore. How can you get bored?

How open is your company to new ideas and suggestions?

EYE is the first company that I've worked for that says they're open to new ideas and suggestions and actually means it. Everyone has a voice here and we're constantly given the opportunity to voice it. We recently formed a cross-departmental team who selected from a pool of ideas generated across all staff members to pick a few great ideas to run with.

How much responsibility have you been given?

When I started at EYE, my position was 'grey' so to speak. The position was new and there was plenty of room for growth and development.
Primarily, I am responsible for all research-related requests in the U.S., keeping up with industry news and trends and aiding in generating ideas for EYE USA's next research endeavor.

How green are you and your company?

By offering a digital option, EYE is able to save many trees each year, as well as provide clients with a simple and effective means to change their creative in as little as an hour.

We're also conscientious and recycle in all of our offices. Doing what is possible to help the environment is more important than ever at this point in history. EYE, and I, realize that and are doing what we can to help. There will be more on this front in coming months from EYE, so stay tuned!