This campaign for Jersey Boys started well before Christmas 2009 with a series of moving posters created for Titan Outdoor's D6 digital displays but is now also featuring at 300 cinemas across the UK – it's being aired during screenings of Tim Burton's film Alice in Wonderland from 5th – 15th March.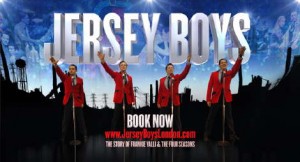 It is also, we believe, the first RealD 3D cinema ad for a theatre production globally and the second RealD 3D cinema ad to be created and produced in London itself.
Heather Pirret and James Dartnall from Pink Banana Studios – don't you just love that company name, Ed have been working with AKA Promotions to use various digital and otherinnovative platforms to promote the internationally acclaimed hit musical Jersey Boys across a wide range of media.
Heather Pirret told us "We were involved in the campaign from conception to delivery which enabled us to define and capture the footage required in such a way that we could edit it for a variety of formats in both 2D and 3D at the highest resolutions".
Robert Hood, Digital Manager of JCDecaux (nee Titan) told us "We always encourage advertisers and agencies to think about the environment and make full use of the capabilitities of our HD screens and they did just that. The three fun, good looking ads kept heads turned and really caught people's attention"
More importantly AKA Promotions has seen an increase in ticket sales, Simon Delany, Account Director for Jersey Boys at AKA said "In a the last few months we have seen campaigns using advertising formats based on digital technology deliver an increase in ticket sales for the award winning West End musical Jersey Boys. The eye-catching, realistic and engaging treatments that Pink Banana have been able to achieve on these formats make them appealing and memorable for potential audiences".
In the new 3D cinema ad (directed by James Dartnall) titles fly out from the dramatically lit set, to be read by the audience, and the ad ends as the final curtain drops to reveal the famous skyline etched into a montage of ghosted images familiar to fans.
About Pink Banana Studios

Pink Banana Studios is a young and energetic company specializing in content production and delivery for existing and emerging digital technologies. In operation since October 2009, Pink Banana is founded on over 20 years of collective experience in the digital media and video production industry. They have been working with a selection of creative agencies to produce work for various clients including leading companies in the film, entertainment, media, energy and pharmaceuticals industries delivering corporate videos, online media and applications, digital posters, dynamic media on mobile signage and 3d cinema ads. They also have established relationships with multiple system providers for digital signage which includes touchscreen displays, indoor displays and large format LED displays enabling them to implement end to end signage solutions with a key focus on content and delivering targetted messages.