Adrian J Cotterill, Editor-in-Chief
Amscreen this week announced that its Forecourt Network, being used by the likes of Amex, Visa, B&Q, Camelot, Red Bull and Lucozade for advertising, is now reaching an audience of over 12 million people every fortnight.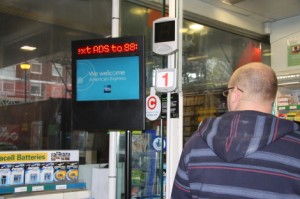 By June 2010 this figure could be set to rise to 40 million per fortnight when the network rollout is actually complete (in the past 12 months they have installed 1,000 forecourt convenience stores across the UK).
Amscreen is of course the official digital signage partner to fuel brand BP and also independent forecourt retailers MRH Retail, Euro Garages and Motor Fuel Group.
Simon Sugar, CEO at Amscreen told us "Our Forecourt Network allows advertisers to access a significant volume of engaged consumers in locations where they are easy to reach and at a time when they are receptive to messages. The quality of the advertisers we have on board demonstrates the potential of the network as an advertising medium"
Coinciding with the news, results from Electronic Point of Sale (EPOS) tests conducted for sales house Digicom on three of the advertising campaigns running on Amscreen's Forecourt Network demonstrate that the medium is ideally placed to prompt consideration and purchase.
Tests were conducted on three separate advertising campaigns from brands in the soft drinks, chocolate bar and mint categories and all demonstrated sales uplifts of between 20% and 36%.
The soft drinks brand showed a 20% sales uplift; the chocolate bar brand a 30% uplift; and the mint brand a 36% uplift.
Initial results also show that this uplift continued into the 'post' period.
Chris Forrester, MD of Sales & Marketing at Digicom was quoted as saying "We are obviously very pleased with the results. They support our assertion that digital out of home advertising in the convenience sector is a powerful driver to purchase for consumers. The location of the screens in the forecourt network makes them unmissable and provides an ideal way to communicate last-minute buying prompts."
The EPOS research is supported by research into impulse buying habits in forecourt locations, commissioned by Digicom through GfK's national omnibus survey.
The results showed that consumers in forecourts are poised to purchase and often do so. 75% of respondents had made a non-fuel purchase in a forecourt store in the past 12 months. The most frequently bought impulse purchase items in these shops are chocolate confectionery, sweets and soft drinks.