Complementing the second generation MPro120 Pocket Projector launched back in 2009, this new MPro150 from 3M offers integrated memory, file sharing capabilities and a full suite of applications in an entirely cable-free, ultra-portable device.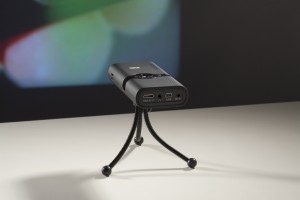 The MPro150 is the first in 3M's range of Pocket Projectors to eliminate the need of a pass-through device such as a laptop, netbook, smartphone, digital media player, digital camera, camcorder, games console or other multimedia device.
It includes 1GB of built-in memory and a 2GB interchangeable micro SD card for additional storage. Presentations, videos, music and photos can be pre-loaded onto the projector itself via mini USB, VGA and composite video inputs.
Measuring only 130mm x 60mm x 24mm and weighing 160 grams the MPro150 is a highly versatile hand-held projection tool for use in business or at home.
Users can project VGA images up to 50-inches at 15 lumens brightness and with 100 per cent HD colour and it has a robust battery life of two hours (an LED light source means there is no need for a replacement bulb).
It's also ready to use straight out-of-the-box featuring a variety of input cables, a removable tripod and an integrated flip stand.
The product is available now and has a recommended selling price of £349.99 including VAT.