Gail Chiasson, North American Editor
With Onestop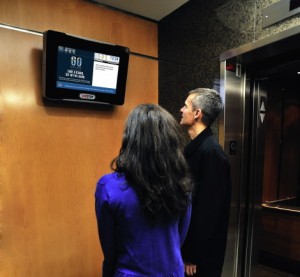 Residential Network of digital screens already delivering timely and relevant building‐specific messages to tenants in many of Canada's leading properties, the Greater Toronto Apartment Association and its members used it to launch its first paperless campaign effort to spread the Earth Hour message last Saturday.
Delivering the Earth Hour message to hundreds of thousands of Toronto residents was an important social responsibility of the GTAA and its members, who traditionally had used print media to reach tenants.
"It is important to us that we lead our members by example, and the Earth Hour campaign running on the Onestop Residential Network demonstrates our commitment to our environment every hour, of every day," says Brad Butt, president of GTAA. "Not only were we able to deliver such a timely and relevant message as Earth Hour to tenants using a more cost effective and environmentally friendly method, we did it in a fashion that is relevant and meaningful to them."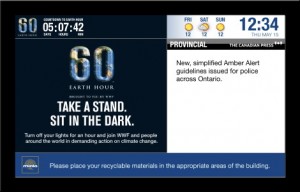 The association, in association with Onestop, developed a strategy to maximize awareness of Earth Hour among high-rise residents. To start, a real-time Earth Hour countdown, displaying the actual days, hours and minutes remaining until Earth Hour, was added to the entire Residential Network portfolio. In addition, a high-impact 30-second message was developed to educate the tens of thousands of Toronto residents that view the Onestop Residential Network about the importance of Earth Hour and why they are encouraged to participate.
As with the Earth Hour campaign, landlords and property managers have unlimited access to utilize the Network within their own buildings to deliver any and all notices, information or announcements of interest; while significantly decreasing the waste typically associated with print notices in elevators and individual mailboxes. Some of the landlords and property manager groups now working with the association and Onestop Residential to modernize tenant communication include: Briarlane, Berkley, Minto, O'Shanter, Park Properties, Sterling, and TransGlobe.