Adrian J Cotterill, Editor-in-Chief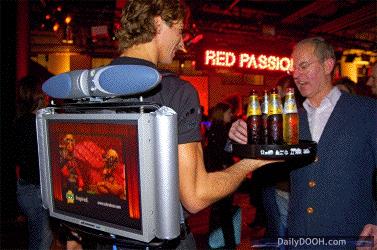 Having very recently spoken about Pixman and before that about AdWalker (and also Tricast) I received lots of questions whether these folks really were the ONLY mobile digital signage solutions out there in the marketplace.
If we take mobile to mean 'mobile' – wearable or drivable, and leave the screens INSIDE taxis, trams, buses and trains as Captive Audience, within EMEA at the moment I see the following (in alphabetical order)
The Picture shown is AdScreens in action September 2006 at
Earls Court for an Exhibition about India and was attended by the Indian Prime Minister.

Anecdotally, the Indian Prime Minister actually stopped the promotional boys and girls who were wearing them, and then went to the Cobra stand and congratulated the CEO of Cobra for a great idea in making the screens!!! The PM thought that Cobra had done the screens.