Manolo Almagro, Q Division Managing Partner
Big, big news in today's Parallel Worlds post! Show+Tell and CEMUSA have finally, formally announced their "stealth" project that could arguably be one of the worst kept secrets in the industry. I can't tell you how long I've been waiting to spill the beans on this story!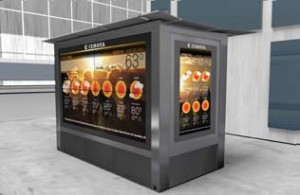 In 2009, CEMUSA selected Show+Tell as the exclusive technical solutions and content partner for this ambitious project. The challenge?
Find a way to retrofit a gigantic matrix of sunlight readable LCD screens by squeezing them into the existing traditional poster light boxes of CEMUSA's bus shelters and news stands.
Select a cost-effective digital signage platform to manage the entire network of eight news stands in and around Time Square – WireSpring was chosen, Ed
Create an engaging content strategy that incorporates social media, news feeds, real-time HD video broadcasts and of course – the revenue generating engine – 3rd party advertising.
Although, this particular post may seem self-promoting, I am honestly proud to say that the ever-loving folks at Show+Tell met this challenge head on- with a "little" help from its partners at WireSpring, for the software platform and Display Devices Inc, who called their fabrication and engineering ninjas into action and figured out how to squish a 2 x 2 landscape oriented matrix of Samsung's 65″ and (1) 70″ outdoor readable LCD into the existing backlit poster light box
CEMUSA's digital newstands are scheduled for field deployment sometime before the fall of 2010. (how's that for being specific?)