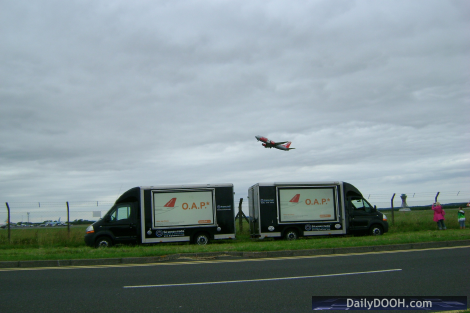 How best to highlight that the easyJet fleet of planes have an average age of 3 years whereas Jet 2 planes are on average 22 years old than park up a DigiAdvan at Newcastle airport?
SA DigiAdvan's brief was indeed to target both the UK's Newcastle airport and passengers traveling there and to target high footfall areas within Newcastle city centre.
The campaign which we believe started at the beginning of this last weekend is still ongoing and is likely to last one more day.
The aim was seemingly to directly target the Jet 2 airline (in particular the age of its fleet) and their own (Jet 2) marketing material present at Newcastle airport as can be seen by the aggressive positioning of some of the vans seen in these photos.