Gail Chiasson, North American Editor
Pedro Andres Sanchez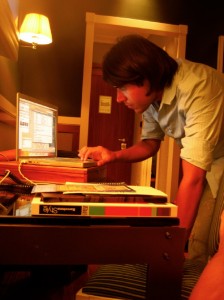 is the creative director at Monster Media, Orlando, Florida. with responsibility for overseeing the creative staff and orchestrating the development and design of each creative execution from concept to reality.
Describe your personal workspace.My desk is in an open studio area shared with other members of the creative staff (in order to achieve a free flow of ideas). On it, you'll find my computer, some cameras for testing, my phone and iPad. Depending on my work load, my desk is usually littered with empty cans or cups for various caffeine beverages – mostly energy drinks, which fuel me through long all-nighters.
How do you get to work?Vehicular transportation is really the only way to go in Orlando. My commute is only about half an hour or less, but sometimes I have to pull some less than polite driving moves. This is not because I have road rage, but because many people around here should not be allowed to have a license.
What is an average day like?Each day is a bit different. They're typically made of impromptu meetings with client services, operations and creative staff. There are usually client conference calls sprinkled through the day, compounded by hands-on work.
What is essential to you being able to work happily?Being able to do things… create stuff.

To me there's nothing more satisfying than bringing an idea to reality, and then being able to step back and look at it.

How flexible are your working conditions?I believe we're pretty flexible, but I've never really tested those boundaries, personally. I like structure. Even if is a Saturday night and I have work to do, I would rather complete it at the office than at home.

What do you think your employer looks for in its staff?Love… love for what they do.

I think good employers appreciate individuals that love and take pride of their craftsmanship. Personally, I believe this is an essential quality to have, especially in a creative field.

What suggestions do you have for your company?Pre-paid Starbucks cards!
Do you have any frustrations you would like to share with us?There are always the typical challenges that creatives experience when working with a client for the first time. Also, what we do here is so different that it takes some time to explain our process to someone who has never embarked on a campaign like this before. Luckily for us, we have an excellent client base, and often times I am creating ads for return clients who were so pleased with previous partnerships; they keep coming back for more.
What do you like best about your job?I love the physical scale of our work. Our stuff is just massive. There is really no other medium that can engage and immerse consumers in the way that we are able to achieve.

I'm also very grateful of the fact that we have complete control over our systems. I feel very privileged for this, since the majority of digital media artists have to deal with underpowered machines and browser compatibility issues… gross!

How open is your company to new ideas and suggestions?Our product is creativity + innovation. New ideas are easily consumed and digested, and they are constantly shaping our company.
How much responsibility have you been given?If I screw up, I can't sweep it under the rug. As the creative director, I'm involved in almost every project we do whether it is large or small. The pressure can get a bit high at times but I wouldn't have it any other way.
How green are you and your company?When we first started, our lime green logo about the only green initiative we had going for us. As we have grown, we have made a conscious effort to reduce our carbon footprint as a company.

Through the use of digital systems we are able to cut down significantly on the amount of waste generated by traditional print media, which require new prints to be generated with each revision or rollout. Also, all of the lamps used in our projectors are recycled to prevent any harmful components from being released into the environment – and we send older computers and projectors to schools and organizations to be reused.

My personal way of 'going green' is through my new iPad, which allows me to work completely paperless.