Adrian J Cotterill, Editor-in-Chief
Limited Space, a supplier of media in premium UK shopping malls has teamed up with Monster Media to roll out cutting edge interactive technology exclusively across Limited Space's large format digital screen network, Ad HD.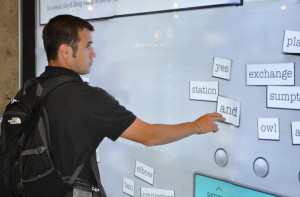 This partnership agreement will, we are told, provide clients with a fully packaged service capable of including everything from inception to monitoring a campaign's success through a single channel, i.e. Limited Space.
Limited Space's mall network obviously has some synergy with the profile of Monster Media's current networks which are already strongly established in the United States.
David McKie, managing director of Monster Media UK told us "We're thrilled to have a long-term, exclusive contract with Limited Space and looking forward to placing our interactive technology within their malls throughout the UK"
Monster Media will immediately be installing its one-of-a-kind dynamic displays in 15 flagship malls within the Limited Space network, including The Bullring, The Metro Centre, Cabot Circus, Highcross and Bluewater.
Matt Gordon, owner of Limited Space told us "We were looking for an out-of-home partner that had strong synergy with our own business. We are both constantly reinventing ourselves and pushing the envelope, and that's what pulled us strongly towards Monster Media. We're both leaders in our respective fields and I've no doubt that this partnership will increase the effectiveness and success of both companies."
Limited Space already offer brands the opportunity to take ownership of its Ad HD network including surrounding the giant screens which are up to 110 sq/ft in size with bespoke creative. Recent ownership campaigns include BMW, THQ and T-Mobile with other Limited Space clients spanning a range of sectors. Others include Paramount, P&G, Cadburys, Sega, Adidas, Peugeot and Orange.