Adrian J Cotterill, Editor-in-Chief
atmAd, which operates the UK's largest network of digital out of home screens by harnessing the power of ATMs for advertisers, has grown its network by 11% with the addition of retail-located ATMs owned by UK independent cash machine operator, Bank Machine, a subsidiary of Cardtronics, Inc.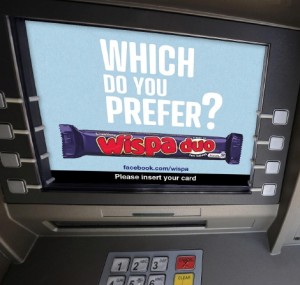 Close to 800 Bank Machine sites have been added to the atmAd network, increasing atmAd's gross monthly audience reach to 55 million and bringing on board a wealth of retail-located ATMs including SPAR, Martin McColls and Budgens, strengthening atmAd's already strong high street and CTN offering.
National coverage of commuters has also been greatly enhanced by the inclusion of ATM screens located at forecourt and motorway service stations, including BP, Murco and Welcome Break sites.
Commenting on the growth of the network, Ana Stewart, Managing Director of atmAd told us "We're delighted to add Bank Machine's ATMs to our growing national network of digital screens. Not only do these screens increase our coverage of high street and commuter audiences, but Bank Machine's status as one of the UK's premier independent ATM operators enables us to carry advertising from a wider range of advertisers, including financial companies."
atmAd anticipate that the additional 800 screens will be up and running with media in early Q4 2010, offering the same 40 seconds of dwell time combined with dynamic on screen video content and full accountability, as their existing 6,500 screen network.
Ron Delnevo, Managing Director of Bank Machine for UK and Europe was quoted as saying "We have watched with interest the growing wealth of advertisers using atmAd's national ATM screen network and very much look forward to being able to offer our ATM screens to brands looking to reach customers who not only have money in their hands, but are close to the point of purchase."