Manolo Almagro, Q Division Managing Partner
The Folks at Terrapin did an admirable job at pulling together the first Digital Signage World Asia in Singapore this week. From my perspective, the show had a decent attendance of 100+ considering its tiny footprint, (in comparison to DSE in Vegas) in fact it was very reminiscent of the early days of the DSE conferences. It was however, on a par with the size of the last Strategy Institute Conference I attended.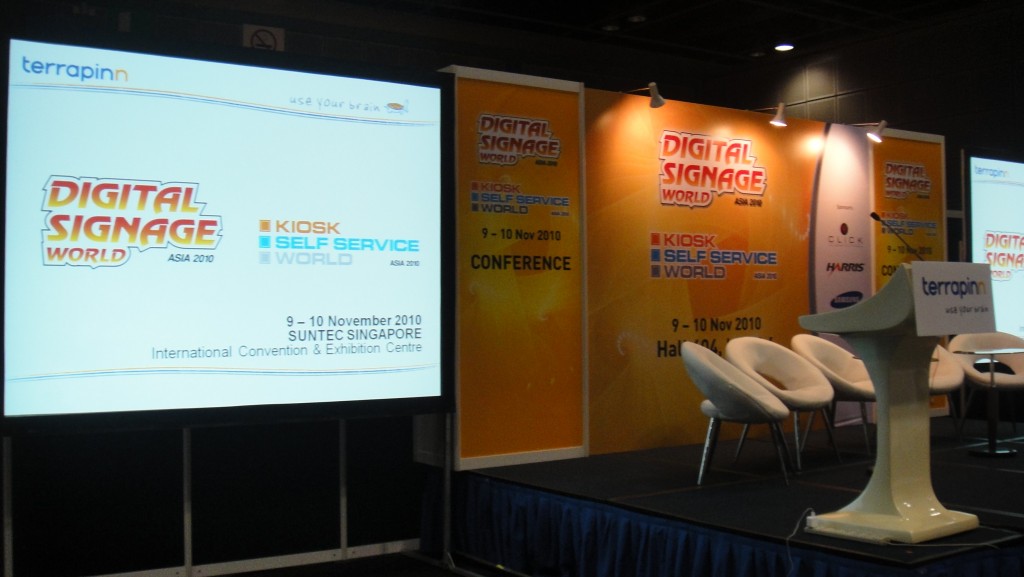 The exhibit hall was predominantly populated by the big screen manufacturers like Christie, Samsung, LG and NEC, – even 3M's Vikuiti distributor had a booth. The only software vendors I noticed were Scala and Harris.  HP made a cameo appearance in the Scala booth – my guess? It was to discuss how they were going to aggressively go after the asian markets with their recently publicized alliance.
A quick survey of the countries in attendance revealed that there was good coverage throughout the region, I had the opportunity to talk with network operators and solution providers from- Australia, Taiwan, India, Philippines, Korea, China, Hong Kong, and Malaysia. The overall outlook was that the industry was active, but still struggling with monetization strategies, profitability and that agencies needed more education of the value of place based media (sound familiar?)
Highlights from the show; Scala's Tom Nix's had a session on the future of digital signage- he made a bold claim that by 2020 the world would be populated by "1 billion" screens. (sadly- he didn't say it like Austin Powers would have done, with his pinky to his mouth) and the formal announcement that yours truly will be leading the charge to bring the Digital Screenmedia Association into the Asia region- Which, as I expected generated a lot of interest at the show.  Starting in Jan 2011- I will be starting at a grass roots level with the creation of local DSA country councils in Australia, China, Hong Kong, The Philippines, Malaysia and Singapore.
Although I can't yet speak for some of the other countries – In the Philippines and in Singapore, I've already established charter memberships and engagements from government entities, media agencies, network operators, software providers and manufacturers.  Which leads me to believe the creation a regional version of N. America's DSA into Asia will be a much needed catalyst to move the emerging industry an order of magnitude forward.