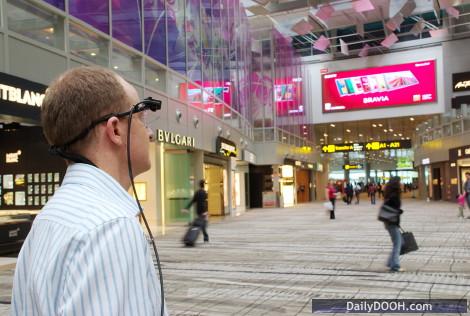 EYE has just announced its findings from an audience research study at Singapore Changi Airport.
Conducted in March this year, the study involved real-time travellers and recorded what they saw, and how they navigated and interacted with advertising media within the airport environment.
Ms Cassandra Thomas-Smith, EYE Global Insights Director tells us that this Eye Tracking study is the first of its kind to be conducted in an airport environment and that "the methodology combines real environment and real behaviour that creates viewing engagement measures, which have not previously been undertaken in the airport media field"
Participants in the study wore a special pair of glasses with built-in cameras that recorded their eye movement and field of vision simultaneously – the participants were travelling on the day of participation and were unaware of the purpose of the study – though of course they would have been aware that something was going on, see Hawthorne Effect – 'A tendency of research subjects to act atypically as a result of their awareness of being studied'
Anyway, captured video footage was then analysed in the laboratory. Greg Barnett, Customer Experience Manager, Access Testing, Australia's largest independent testing organisation who were commissioned by EYE to conduct the study told us "With Eye Tracking, we see first-hand where the traveller looks, what maintains their attention and all the elements affecting their visual experience during an airport journey. This new research gives us a better understanding of the factors in the airport environment that increase or decrease engagement with advertising"
He added "For example, we know that things like environmental clutter and distractions affect the way people consume OOH media. However this research provides a new perspective on the differences between these 'distraction areas', and the type of formats that work best allowing for these factors"
Two areas where EYE analysed advertising effectiveness in this study included:
Where are the areas of low distraction?
What does it take to cut through in high-distraction areas?
Results indicate that low-distraction zones, such as along the piers heading towards/from the gates, outside the business lounges and at the taxi stands, provide opportunity for travellers to engage more with advertising.
Even though these zones include a combination of stationary and moving travellers (e.g. walking along the piers), they are well able to notice advertisements.
In distraction zones such as baggage claim and retail areas, the study revealed the effectiveness of high-impact formats such as promo-zones and the large format LED screen in T3's retail shopping street. Even in the baggage claim area, advertising packages are structured to create a big impact with a bank of impressions along the baggage belts.