Adrian J Cotterill, Editor-in-Chief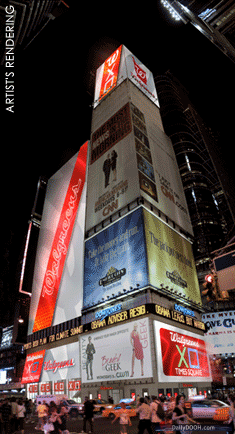 This choreographed array of digital displays was created for Walgreens by D3 – described as "A remarkable breakthrough in LED digital display technology", it weighs 125 tons, stands 30 stories tall and covers over 1/3rd of an acre.
It debuts in Times Square this Thursday, 20th November.
We first wrote about this back in May when we picked up on stories in the New York Times; such as 'How To Stand Out In Times Square?'
D3 is one of the most well known hardware and systems integrators in Times Square and they have one of the best reputations in the business, especially as it relates to Times Square Out of Home display systems and solutions.
We are looking forward to see what brands and innovative campaigns that it is going to be used for.