JCDecaux Airport has won the tender to manage the contract for digital advertising for Eurostar at St Pancras International Station.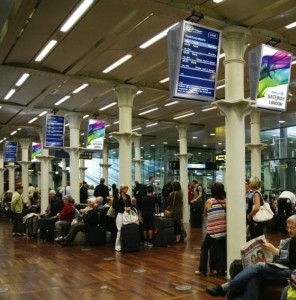 This will be the first digital advertising at the Eurostar terminal at St Pancras International, since the high-speed passenger service moved to the iconic London station in 2007.
Under the contract, JCDecaux Airport will develop and market digital advertising locations at the Eurostar terminal with 32 x 40'' screens in Departures and 4 x 70'' screens in Arrivals.
James Cheesewright, Chief Financial Officer for Eurostar International Ltd commented: "St Pancras International has been our iconic London home for four years and we are delighted to announce JCDecaux Airport as our first digital advertising supplier for the station. We were impressed by JCDecaux's experience of working with other transport hubs and we're confident that they'll provide Eurostar passengers with well-designed advertising that will enhance the customer experience."
Julie France, Managing Director of JCDecaux Airport said, "The Eurostar proposition will offer an important communication channel at a key international gateway. It will open up huge potential to engage desirable passengers in the run-up to the London 2012 Olympic Games and beyond. JCDecaux is uniquely well-placed to deliver this – we have strong relations with international clients and have successfully launched digital networks at major airport and rail terminals including Heathrow Terminal 5."
Over 9 million passengers travelled on Eurostar, the high-speed passenger service between the UK and mainland Europe, last year, with a third of passengers travelling for business.
Installation of the new digital sites has already begun and is expected to be completed by the end of 2011.