Adrian J Cotterill, Editor-in-Chief
Entertainment One Ltd. (LSE: ETO) ran an interactive Mother's Day campaign at Glow Bluewater on Ram Vision's iconic screen from 16th March to 18th March 2012.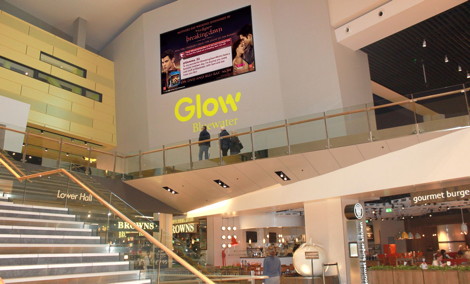 The campaign encouraged passers-by to Tweet Mother's Day messages to #BreakingDawnMum to see their comments on-screen and for a chance to win The Twilight Saga: Breaking Dawn – Part 1 on DVD and Blu-ray.
The live Twitter wall scrolled through the latest Mother's Day Tweets and was interspersed with the film trailer and DVD pack shot which directed customers to the HMV store.
Matt Brightwell, Head of Sales and Marketing at Entertainment One told us "We really wanted to create a good fun campaign that engaged families as they went about their weekend. Using a giant Tweet screen to broadcast Mother's Day messages is a great way to captivate shoppers by allowing them to broadcast their declarations of gratitude and love instantly."
Savvas Tombouloglou, Creative Director at Ram Vision told us "This is the first time that our iconic screen at Glow Bluewater has been used as an interactive platform so it was great to see the 21 square metre LED screen being brought to life in such a dynamic way, with the experiential activity really helping to bring the content to life."
The live element of the digital poster campaign ran from 5pm-9pm on Friday and 11am-4pm on Saturday and was supported by an experiential team from Staffwarehouse who were handing out postcards to shoppers and encouraging them to get involved by Tweeting their Mother's Day messages.