Adrian J Cotterill, Editor-in-Chief
For the first time at #ScreenmediaExpo, high-end AV solution provider Mode-AL will feature its new 'V-Brick' and 'Pop-Out' video walls plus other select products from its range including portable digital signage frameworks, 19″ racking and screen mount options for virtually any application.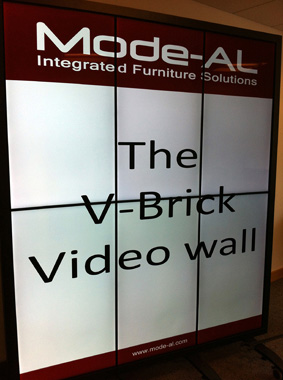 We are told that the video wall V-Brick system is an entirely new mounting system for large-format screens specifically designed to go behind glass.
Mode-AL Managing Director David Lees told us "The V-Brick uses a unique construction method that allows access to any individual screen without disrupting those surrounding it. And with a depth of only 180 mm behind the glass, the user can free up valuable retail or commercial space as well as reduce maintenance costs. The V-Brick and Pop-Out systems are the next generation of video wall and offer significant whole-life cost reductions over traditional systems."
Mode-AL's Pop-Out video wall allows access to the rear of the screens without the need to remove them from their framework.
Along with the standard wall-mounted and pop-out video walls, Mode-AL also offers free- standing video wall options that can be used for portable applications.
About Mode-AL

Mode-AL manufactures bespoke modern furniture for the domestic market and is recognised as the market leader for high end AV and broadcast solutions for mounting multiple monitors. Mode-AL has an enviable client list including Turner, Telemundo, BBC, ITV, TV2A, ESPN, Sky, Sony, Panasonic, Fujitsu, Morgan Stanley, Price Waterhouse Coopers, Honda, Mercedes, Siemens, HM government and many more all over the world.