Gail Chiasson, North American Editor
This study simply seems to emphasize what those in the industry already profess, but it's worth repeating, despite the fact that there doesn't seem to be any breakdown in this study between Out-of-Home and Digital Out-of-Home.
The study, conducted by the U.K. Outdoor Media Centre, has revealed that OOH advertising has a strong influence on consumers, nudging them along towards the purchase at every stage on the path to purchase.
With the help of agency researchers and planners, the Customer Journey, a four-stage process, was developed to capture the buying process from passive absorbing to post-purchase sharing.
These four Customer Journey stages included:
Absorbing – Taking in information passively about products and services, but not doing anything with that information yet;
Planning – Researching your options by educating and informing yourself about the category working up a shortlist;
Obtaining – Working out where to buy the product or service you want, which brand to buy, how much to pay;
Sharing – Have recently bought and are sharing your thoughts with other people and reviewing your purchase.
The study had two phases. A static online survey asked respondents about their media use and where they sat in relation to 15 major product categories. They were asked to identify which of the stages shown above, they were in for each category.
This phase confirmed that exposure to OOH ads increases the propensity for consumers to take action. Respondents were 78% more likely to seek more information about companies and 254% more likely to look at products they saw advertised.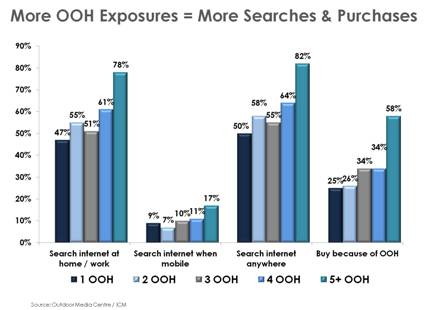 The static phase also confirmed that those who recalled seeing multiple OOH formats (billboards, resto-bar, transit, mall, etc), are more likely to search online, with their mobile device and to make a purchase. Increasing the number of exposures actually drove more sales.
In phase two, the dynamic part of the study, respondents were asked to carry a mobile device for a two-week period. Respondents noted brand encounters and provided information on whether they had moved forward along the 'Customer Journey' within that category. These effective encounters were traced back to each medium. The results show that OOH is a very powerful driver of behaviour at every stage of the 'Customer Journey'; responsible for approximately one-third of all effective encounters at each stage.