Adrian J Cotterill, Editor-in-Chief
As part of the most recent round of job cuts at Cisco news reaches us that Cisco has killed its direct sales force within its DMS Business unit.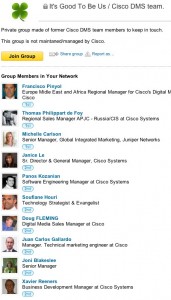 Apparently for the past few weeks Cisco management have been scrambling around attempting to beef up the distribution model for said solution.
Unfortunately it means that there have been lots of layoffs, including we believe; Mike McFall, David Hamady, Dennis Keller and Bill Stewart.
Francisco Pinyol (was Europe Middle East and Africa Regional Manager for Cisco's Digital Media solutions) setup a LinkedIn group entitled 'It's Good To Be Us / Cisco DMS team" which is described as a "Private group made of former Cisco DMS team members to keep in touch" (created: July 24, 2012 members currently: 63).
Now whether that's former 'Cisco DMS team members' and / or former Cisco employees (as well) we don't know but we have seen a lot of our newsletter emails bounce back in the past 48 hours – Francisco Pinyol was one (bounce back) for example and we also note that Chris Hartley joined the group It's Good To Be Us / Former Cisco DMS team.
Former Manager, Emerging Technology Marketing Michelle Carlson obviously got out when the going was good as we see that she jumped ship (to Juniper Networks) back in January.
It's a very strange alumni group because despite all the hype and paid for market research that gave them a supposed 'number one market share globally' they had so much potential but didn't actually achieve anything.