Adrian J Cotterill, Editor-in-Chief
Billed in any normal year as "the largest professional audiovisual trade show in North America" industry experts are now predicting that #InfoComm21 is likely to attract between 7,500 and 10,000 attendees next month.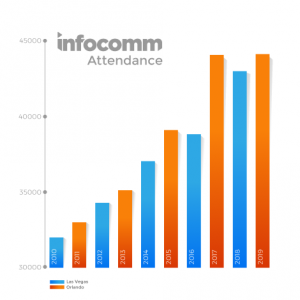 When you think that also includes people working booths the event is surely going to look like a ghost town, no matter how many food trucks and sit down areas they bring in to fill up the space.
Despite the fact that the organisers of both #EC21, which was due to take place a few weeks earlier, also in Orlando, FL. and #NABshow in Las Vegas were both canceled as in-person events, the nice folks at AVIXA are insistent that their show will go ahead.
The organisers are still touting 400 exhibitors, although we hear that many booths will go unmanned and few exhibitors, like LG are even bothering to build a (proper) stand, one has to ask why bother?
Note that 400 exhibitors is HALF the number that exhibited in 2019 (there was no show in 2020)
InfoComm ‪Historical Show Attendee Numbers

* InfoComm 2010 32,000 (Las Vegas)
* InfoComm 2011 33,001 (Orlando)
* InfoComm 2012 34,286 (Las Vegas)
* InfoComm 2013 35,126 (Orlando)
* InfoComm 2014 37,048 (Las Vegas)
* InfoComm 2015 39,105 (Orlando)
* InfoComm 2016 38,833 (Las Vegas)
* InfoComm 2017 44,077 (Orlando)
* InfoComm 2018 43,000 (Las Vegas)
* InfoComm 2019 44,129 (Orlando)
* InfoComm 2020 no show (Las Vegas)
* InfoComm 2021 7,335 (Orlando)