Adrian J Cotterill, Editor-in-Chief
DPAA, the global trade marketing association, driving the growth and digitization of out-of-home media and its growing role in the omnichannel mix, is holding its Canada Summit next week, on June 14 at the Scotiabank Theater.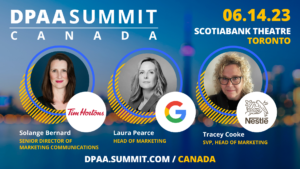 Speakers for this event include. 
Tracey Cooke, Sr. VP, Head of Marketing, Nestle Canada

 

Laura Pearce, Head of Marketing, Google Canada

 

Solange Bernard, Sr. Director, Marketing Communications, Tim Horton's
Melanie Johnston, Chief Marketing Officer, Princess Margaret Cancer Foundation

 

Noah Vardon, President, Havas Media Group Canada

 

Urania Agas, CEO, EssenceMediacom Canada
Lesley Conway, CEO, Mindshare

 

Nikki Stone, Exec VP, Managing Director, Zenith Canada
Bettina Heimrath, President, Hearts & Sciences

 

Caroline Breton, Managing Director, Involved Media

 

Debbie Benadiba, CEO, Talon Canada

 
Barry Frey, President & CEO of DPAA told us ""We are excited to see iconic brands and senior agency executives that have already signed up for this year's DPAA Canada Summit. DOOH is playing an increasing role in brands' omnichannel mix and at this event we'll showcase this and the latest innovation in the industry." 
The Summit program will explore the growing role of digital out of home advertising in today's omnichannel mix. You can register and find out more information about the event here.