Adrian J Cotterill, Editor-in-Chief
Clear Channel claims to have become one of the biggest programmatic media owners in Europe, now delivering over one billion impressions monthly as 1,253 new digital OOH screens in Sweden have been added to LaunchPAD, bringing the total available to be bought programmatically to over 11,000 across nine European markets.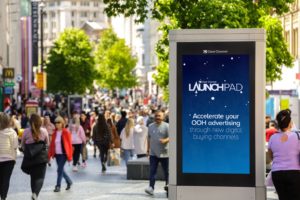 LaunchPAD which is Clear Channel's programmatic platform rolled out back in 2021. LaunchPAD's connection to European inventory, planning and industry data to and from Clear Channel and their SSP partners enables brands to reach their target audiences, wherever they are, at a moment's notice. Clear Channel LaunchPAD offers RTB on Clear Channel's prime DOOH estate, via private marketplace (PMP) deals, using data-fuelled by audience insights from Clear Channel RADAR.
Dominic Dunne, Programmatic Commercial Lead, Europe told us "To have reached this milestone is emblematic of the hard work and dedication of our wonderful teams across Europe, of whom I'm incredibly proud. We're excited to see how this scale of programmatic buying can help brands deliver contextually relevant messages at pace. LaunchPAD allows us to combine the widespread presence and impact of Out of Home with the flexibility and creativity of digital media approaches, driving great results for advertisers and brands and new experiences for consumers."
Clear Channel's screens are available to book via LaunchPAD across the UK, Belgium, Switzerland, the Netherlands, Spain, Italy, and Finland, with the most recent additions being France and Sweden. Clear Channel LaunchPAD is a pan-European advertising platform offering programmatic, automated, and direct buying channels, available through SSP partners Broadsign and/or Hivestack in those markets.