Gail Chiasson, North American Editor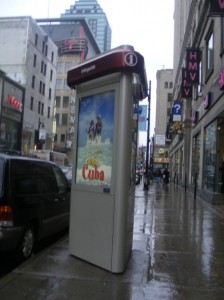 Astral Media Outdoor has installed its new three-sided Infoguide just east of Peel St. on Ste-Catherine in the heart of Montreal.
The Infoguide, introduced to agencies and press in February.
It features a digital touch screen on one side offering information on streets, tourist spots, retail and restaurant locations and other information for shoppers and tourists.
The other two sides contain rolling digital advertising screens.
Several similar Infoguides will go up throughout Montreal in the near future.