Gail Chiasson, North American Editor
How do you design for digital experiences that won't be seen until seven years from now?
That's the assignment that Show+Tell, New York, was awarded by New York's Metropolitan Transportation Authority.
Show+Tell was asked to design the digital display experience for Grand Central Terminal's East Side Access addition , not set to open until 2022, and the New York design firm has been doing that over the past 18 months, working with the world-renowned design group Pentagram. Its challenges lay in three areas:
To create digital experiences that are futuristic and effective;
To create a scheme that respects the historical designs of the existing Grand Central Terminal, while providing modern way-finding solutions;
To create hi-tech results that feature the use of yet-to-be-invented digital monitors.
The combination of Show+Tell's proven ability to create thoughtful, artistic digital signage, with Pentagram's experience designing world-class way-finding, will provide innovative designs that fit the character of the space.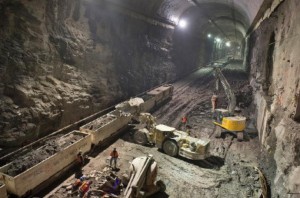 But lets go back a bit: Grand Central's new addition will be the terminus for a new railroad system linking Long Island with Grand Central. The idea of that railroad was first started in 1969 and worked on until the originators ran out of money and stopped in 1976. However, with funds from the MTA, digging began in earnest again in 1995, and it is still going on – this time with better equipment to penetrate the solid rock that lies deep below even the existing trains and subways of Manhattan. In fact, the new line goes under the East River and even runs far below Park Avenue, some of the most expensive real estate in the world – so far below, that tenants will not even be aware of trains going through.
In short, it's one of the largest public works projects ever undertaken in the United States.
When completed, the new line is expected to carry 160,000 people a day from Long Island into the heart of Manhattan and return. It will relieve much of the current auto traffic congestion.
"It's been a most interesting assignment," says Phil Lenger, president of Show+Tell. "With the speed of changes in technology, who really knows what new digital screens and tiles will even look like by 2022 – even what shapes they'll be.
"What we had to do was figure out first the best places for and the maximum number of electric wires and cables that would be needed in the future."
Consider this: there will be several levels down to the trains, hundreds of feet below the street and served by three or four short escalators and one very long (200 feet) escalator,

"We estimate that there will be 3,600 feet of digital displays of various lengths throughout the levels and running beside the escalators, offering both wayfinding and great opportunities for advertisers," says Lenger. "It will culminate in a beautiful new transportation hub that will respect the historical aspects of Grand Central Station, where even much of the written information is etched right into its marble tiles." (The trip from the new access hub surface to the Long Island Railroad or vice versa is estimated at between 12 and 15 minutes.)

"Miles of hallways will be involved, and we took the liberty of deciding a) where as designers we'd like to see the digital technology – in whatever form it takes; b) where we felt consumers would like to see it; and c) where it would be most beneficial for advertisers. Among the things we looked at was incorporating things like news and weather into the information. And we're planning, for example, that a person riding down an escalator could connect with their mobile device app and get their own personal messages and information on the screens beside them. They like sports news? That's what they'd get.
"Since nobody knows what technology will have been developed by 2022, we had to take liberties and make a lot of assumptions, but we think that what we've developed will benefit the consumers, the advertisers, and, of course, the MTA, since part of the concern was to develop a plan that could be offset by ad revenues over time."

To show how the project will look, Show+Tell worked with LiRo Group to develop a 3D walkthrough video to demonstrate the passenger's journey through the underground system and some content options they might see along their way. If you'd like to take the time, it runs about eight minutes (see above).