Signagelive this week announced that it is working in collaboration with LG Electronics to develop a LG WebOS compatible version of its innovative SoC software.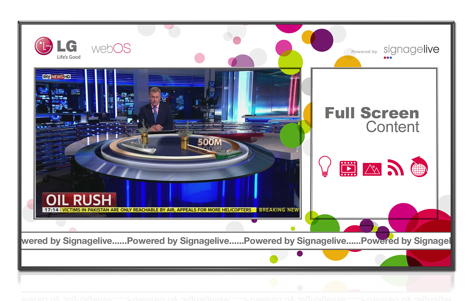 Full details, including supported features and applications will be unveiled at #ISE2015 next week.
Signagelive's LG WebOS-compatible software version will be on display on its own stand, 8-L170 in Hall 8, as well as on the LG Electronics stand, 11-K75 in Hall 11, where it is being used to manage content on LG's latest Smart Signage display range – also being launched at #ISE2015.
Jason Cremins, Signagelive CEO, told us "Providing support for the LG webOS display range expands the choice of compatible solutions available to our customers. LG's highly regarded reputation in the market place together with our cross-platform capabilities make digital signage technology accessible and affordable for wide-scale commercial use by all market sectors."
Signagelive has spent the last two years developing a SoC version of its core digital signage technology – starting back in September 2012 with the Samsung (SSP) SoC development. Signagelive's LG webOS software version is also HTML5 based and provides full support for different content formats including static images, video, HDMI inputs, web pages, IPTV, and RSS feeds.